Advanced Guides / Set Up a Custom Domain Name Using Namecheap
Set Up a Custom Domain Name Using Namecheap
Last Updated:
3 months ago
Time Required - 15 to 20 minutes
Setting up your own domain is a very simple process. Often the biggest difficulty is choosing the right company to register your domain with.
In our experience, we have found that two best companies to do this with are Amazon Web Services (AWS) and Namecheap. AWS can be a bit complicated for beginners so we do recommend Namecheap over them generally due to their much simpler user interface.
This article will guide you through the process of purchasing a domain name with Namecheap and connecting your online store to it.
Purchase Your Domain Name
Visit the Namecheap website at https://www.namecheap.com
Use the domain name search box at the centre of the page to look for a domain name
Add the domain name of your choice to your cart and then press the "View Cart" button on the right to progress through the checkout
Under your cart, we recommend disabling the "WhoisGuard" option that is enabled by default as this is not ideal for public businesses.
Select "Confirm Order" button on the right side and complete your order by creating an account and entering your payment details.
You can watch the following youtube video to see a video walkthrough of how to do this - https://www.youtube.com/watch?v=Zbcn4skYXqM
Point Your Domain Name To Your Online Store
To provide some context on the next step, below is a short heavily simplified explanation of how a domain name works. The goal of the domain name is to be an online "address" for your customers to visit to find your digital content. When a user enters a domain name into the web browser, the browser contacts the domain authorities which will then forward the user onto the correct content. To configure what content is displayed when a user types in your domain name, you need to edit your domain records on your domain name server (DNS). These records are essentially forwarding rules that re-direct your domain name to the relevant content.
To modify your DNS records with NameCheap and point them to your online store, you will need to do the following.
The following images were taken directly from NameCheap's article found here - https://goo.gl/NFx37c
(1) Visit https://www.namecheap.com and login to your account using the "Sign In" button on the top left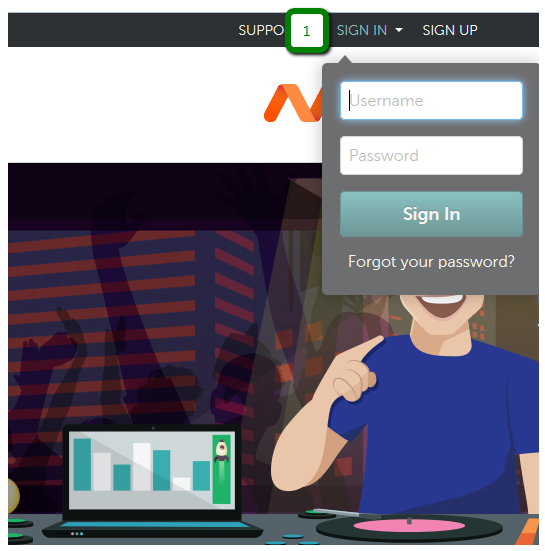 (2) Once logged in, you will be re-directed to the admin dashboard at https://ap.www.namecheap.com. Select the "Domains List" on the left menu and then select the "Manage" button beside your domain name

(3) Navigate to the Advanced DNS tab under your domain settings and select the "Add New Record" button

(4) Create a domain record with the following properties making sure to press the tick on the right to save the record
Type - CNAME
Host - www
Value - stores.cloudwaitress.com
TTL - Automatic
(5) Create and save one more record with the following properties.
Type - URL Redirect Record
Host - @
Value Type - Unmasked
Your records should look similar to below
To explain what you have just done, you have created a domain record that says if someone visits "www.yourdmain.com", then re-direct them to the online store server. The second record is there to say that if someone visits "yourdomain.com" without the "www", redirect them to the "www" version.
Submit A Custom Domain Request
The final step of the process is to tell our store server to respond with your online store when someone visits from your domain name.
Login at https://admin.cloudwaitress.com/ to your online store admin panel and using the main side menu, select "Settings > Domains".
Under the "Custom Domain" section, enter your domain name, i.e. "www.example.com" and press the button below to submit a request
We will review and process your request within 1-24 hours depending on how long it takes for your new DNS records to take effect.
Once we complete the setup process on our end, you will be notified. You can then find your online store by visiting your custom domain name.
Contact Us
Send us a message or request a call