Most restaurant owners know about Uber and the Uber Direct service, but many still ask: "How does Uber Direct work?".
Uber Direct is a delivery service from Uber that allows business owners to send orders to their customers through Uber drivers.
It works through the Uber app, allowing merchants to provide competitive delivery services and gain loyal customers without worrying about commissions. Uber Direct is cost-effective, with a $10 base fee, a $1.10 distance fee, and a $0.50 waiting fee.
You might not know it, but many businesses are encouraging their customers to use Uber Direct and offering many perks. One such business is CloudWaitress. So, you can get an answer to the question, "How does Uber Direct work?" and learn about its benefits here.
What is Uber Direct?
Uber Direct is a solution that allows businesses to use Uber's network of drivers to provide goods to their customers. It works through a business's app or website, allowing Uber drivers to handle the business's deliveries. Uber Direct can also function as a white-label service, enabling business owners to brand the delivery as their own.
Uber Direct is similar to DoorDash in that it helps both drivers and businesses. It helps businesses meet their problem of increased demand and also helps drivers make a little cash on the side.
Uber Direct is only accessible daily from 5 am to 7 pm. Uber Direct gives customers more flexibility in what they can send than Uber Eats' free delivery service. It can be small auto parts, a large suitcase, household items, or other items with a combined weight of 50 pounds per package.
How Does Uber Direct Work?
Many Uber drivers and business owners are probably unfamiliar with how this service works. So, we'll answer the question, "How does Uber Direct work?" here.
For Uber Direct to work, a business owner has to integrate it into their online platform or website. After that, they can set various delivery options and fees for customers using it.
When a customer places an order on that website, an Uber driver receives an Uber Direct request. The driver will head to the business's location and collect the order using the customer's name. After receiving the order, the driver will confirm it on the app, and the delivery process begins.
The driver will drive to the customer's location and call them. They can also notify them that they're at the drop-off point using the Uber app.
After which, the driver will make the delivery to the customer. If it's a contactless delivery, the driver can drop it off at the customer's door and watch to see that the customer picks it up.
When the customer confirms that they've received the order, the driver can confirm the same on the Uber app. However, when the customer doesn't pick up their delivery five minutes after the driver's arrival, the order is returned.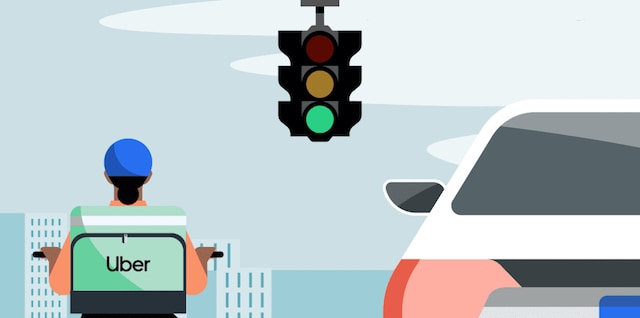 Benefits of Uber Direct
If you're satisfied with the answer to the question, "How does Uber Direct work?" you'll want to know its benefits. There are many advantages that a business stands to gain when they use Uber Direct, and they're all shown below.
Builds Customer Loyalty
The Uber Direct white-label delivery service allows Uber drivers to pose as the company's delivery fleet. This will enable short-staffed companies to keep up with customer demand. So, whenever the company's drivers are unavailable, Uber Direct is there to pick up the slack.
Businesses Stay Competitive
The competition among businesses today is more intense than ever before. Modern companies must have websites where they can engage with their customers. Another requirement for a retail business is to have a delivery service.
This can be a costly requirement, as not all businesses can afford a delivery fleet. However, these businesses don't need to own a fleet with the Uber Direct white-label delivery service. Even small businesses can stay competitive in today's market.
No Commission Required
This delivery service works with tailored rates based on the distance the driver covers. So, a company that uses this service is only required to pay that rate, as Uber Direct doesn't demand any commissions.
Flexible Delivery Options
Organizations that offer a delivery service for their products usually offer flexible delivery services for their customers. Uber Direct is no different, as business owners can offer express, same-day, and scheduled delivery.
Live Reporting Features
A company that uses Uber Direct is never in the dark about a customer's delivery status. The Uber app monitors the driver's location, so the company always knows where their package is. Customers can be updated on the status of their shipment by sharing this data with them.
Easy Integration with Websites and Other Platforms
It doesn't matter if your business already has an app or a website; you can integrate Uber Direct easily. You can either use the Uber Direct dashboard, connect through your existing order management system, or use the Uber Direct API.
Uber Direct Fees
After answering the question "How does Uber Direct work?'' the next thing that comes to mind are the fees. Although Uber Direct is a zero-cost delivery service, that doesn't mean it's completely free. While you don't get to pay commissions for the service, there are some fees to take note of, such as:
A base delivery fee of $10
Pickup and drop-off locations are subject to a distance fee of $1.10 per kilometer.
The cost of a return journey is half the initial delivery rate. Suppose the Uber driver needs to return to the pickup location after making a delivery. In that case, you will be charged this cost.
The cancellation fee is the same as the delivery fee, and it may even include the cost of a return trip. You pay This fee if the Uber driver refuses the order because it doesn't comply with order restrictions.
There is a $0.50 per minute waiting charge. If a company makes the Uber driver wait for more than 10 minutes, the company will be charged this price.

Integrating Uber Direct with Cloudwaitress
Integrating Cloudwaitress with Uber Direct offers restaurant owners a reliable and convenient way to efficiently manage food deliveries. By enabling Uber DaaS (Delivery as a Service), restaurant owners can benefit from quick and seamless delivery options
To set up Uber Direct with Cloudwaitress, restaurant owners need to have Stripe Connect and be located in countries like Australia and New Zealand. Once Uber Direct is enabled, Cloudwaitress allows restaurant owners to easily select Uber as the default delivery provider.
This integration enhances the checkout process for customers by displaying Uber as the delivery provider, along with estimated fees, tips, and delivery times. Payment methods such as credit cards, Apple Pay, and Google Pay (via Stripe) are supported for a smooth transaction experience.
With Cloudwaitress and Uber Direct integration, the order workflow becomes streamlined. The order status transitions from unconfirmed to confirmed, triggering the Uber delivery request. The admin dashboard and customer view provide access to the delivery tracking URL, ensuring transparency and real-time updates on the delivery process.
During the various stages of the order, such as "ready" or "on route," both the admin and customer can track the progress of the Uber delivery. In the event of order cancellation, whether initiated by the customer or the restaurant, the Uber delivery is automatically canceled as well.
Integrating Cloudwaitress with Uber Direct empowers restaurant owners to offer efficient and reliable delivery services. By leveraging the capabilities of both platforms, restaurants can enhance their online ordering experience and provide customers with convenient delivery options through the trusted Uber network.
How does Uber Direct work conclusion
Many restaurant owners have been wondering, "How does Uber Direct work?". And this article answered their question. This platform allows even small companies to compete with larger ones by providing delivery services. Additionally, this program helps Uber drivers by providing them with a means to supplement their income.
Uber Direct was initially developed in response to stay-at-home orders during the COVID-19 pandemic. However, with the benefits covered under the heading "How does Uber Direct work?" we can agree that Uber Direct has come to stay.
You might also like…
FAQs
How can a business register for Uber Direct?
To register for the Uber Direct service, fill out the intake form on the Uber Direct site. This requires information like your name, the business's name, address, email, and phone number. After that, you may link to the Uber Direct API or manually handle orders using the Uber Direct dashboard. Of course, if you already have a channel partner, like ChowNow or Olo, you can request Uber Direct integration options.
Is Uber Direct the same as Uber Connect?
No. Uber Direct and Uber Connect are not the same. Although both delivery services work through the Uber platform, Uber Direct caters more to businesses. As a result, while families can use Uber Connect to send some personal items, Uber Direct helps businesses deliver orders to customers.
Is it compulsory for an Uber Driver to register for Uber Direct?
No. Uber Drivers don't need to respond to Uber Direct requests. New Drivers can remove Uber Direct travel requests from their applications. Old ones can do this by eliminating the option of "Uber Direct" trips from the "Driving Preference" menu.