Are you a restaurant owner or manager searching for the best food delivery apps for your eatery? In today's fast-paced world, customers seek convenience and speedy service when it comes to dining options.
As a restaurant owner or manager, it's essential to adapt to these changing preferences and stay ahead of the competition. One of the best ways to do this is by offering a robust food delivery service.
Cloudwaitress is ideal for restaurant owners looking to expand their delivery services and elevate their business. The platform provides restaurants with a myriad of templates and tools to offer tailored and branded delivery services to customers.
Cloudwaitress seamlessly integrates with top delivery apps so you can have a custom-branded, commission-free direct ordering solution.
This article explores the 4 best food delivery apps available. And it provides valuable insights to help you choose the right platform for your restaurant's needs. From pricing and ease of use to customer reach and integration capabilities, we'll delve into the pros and cons of each app.
An Overview of Cloudwaitress
As a revolutionary service in the food industry, Cloudwaitress offers a unique online ordering and reservation platform explicitly tailored for restaurants. It provides restaurants with a website, mobile app, and a seamless ordering system.
Cloudwaitress enables restaurant owners and managers to manage their businesses efficiently at an affordable cost.
Benefits of using Cloudwaitress
Arguably the most cost-effective solution in the market
Designed specifically for restaurants, with menu customization and multi-location management.
Offers a free plan with up to 100 orders per month.
Integration with top POS systems and support for multiple payment processors.
Integration with top third-party delivery apps, commission-free.
Customer data and reports management.
Mobile ordering capabilities.
Optional custom-built smartphone ordering app.
Cloudwaitress Pricing for Restaurant Partners
Starter: $0 (up to 100 orders per month).
Standard: $39 per month.
Enterprise: $299+ per month.
One-time fee of $399 for a custom-built smartphone ordering app.
Cloudwaitress does not charge per-order commission fees or one-time installation fees. Processing fees vary based on the chosen processor (Stripe, PayPal, CardConnect, Gravity Payments, checkout.com).
Cloudwaitress Availability
Cloudwaitress is an affordable, browser-based online restaurant ordering tool accessible on Windows tablets and PCs.
Cloudwaitress Membership
No specific membership options are available for customers. But restaurant partners can choose from different pricing plans based on their needs.
Cloudwaitress Ease of Use
Cloudwaitress offers a simple and clean interface that allows customers to place orders or make reservations with live updates. Restaurant owners can design their unique website, mobile app, and menu to match their online branding.
Cloudwaitress Pricing for Customers
There is no additional pricing for customers using the platform. However, restaurants may include additional fees to cover delivery costs if they don't use a third-party delivery service.
Cloudwaitress Level of Service
Cloudwaitress stands out with its affordable price, lack of long-term contracts, and responsive support. The platform lets you actively monitor user feedback and encourages member restaurants to request features they need.
While it lacks some frills, its mission-driven approach helps small, independent restaurants thrive in the online ordering space.

Cloudwaitress Core Features
With its robust POS integration features, Cloudwaitress offers an all-in-one solution for restaurant partners looking to manage various order types. These include pick-ups, deliveries, dine-in, and table bookings.
The platform also provides real-time order tracking and automated wait times. This ensures accurate updates for both the restaurant and customers.
Cloudwaitress's delivery management system supports accurate delivery wait times, custom delivery conditions, and delivery zoning. All of which allow restaurants to offer tailored delivery experiences.
Additionally, the platform offers an enhanced dine-in experience. This is made possible through QR code and NFC ordering options for customers ordering directly from their tables.
Its comprehensive suite of POS features is ideal for restaurant owners aiming to streamline their delivery services and improve customer satisfaction.
4 best food delivery apps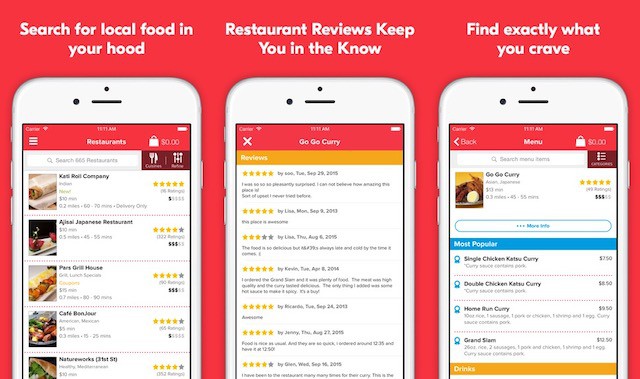 1. Grubhub
Grubhub is a popular food delivery app that helps restaurant owners extend their delivery services. In fact, many consider Grubhub the best app for food delivery.
The platform offers restaurant owners the potential to transform their kitchens into virtual restaurants or ghost kitchens. Focusing on flexibility, Grubhub provides a comprehensive solution for restaurant owners looking to expand their reach and customer base.
Pros of Grubhub
Grubhub integrates with specific restaurant POS systems, simplifying order management.
Their supplemental delivery services can help broaden your restaurant's reach and attract more customers.
By turning your kitchen into a virtual restaurant, Grubhub can help you maximize profits.
Cons of Grubhub
Grubhub's extensive network of restaurants, due to acquisitions, creates competition within its marketplace.
Their marketing and delivery services are separate solutions, which may not suit every restaurant owner's needs.
Grubhub Pricing for Restaurant Partners
Grubhub charges restaurant partners a commission of 5% to 20% on pick-up orders and deliveries, depending on the agreement. In addition, they offer marketing services at $40/month.
Grubhub Availability
Grubhub delivers to over 4,000 U.S. cities. And it has expanded its services to Canada, offering its platform to a growing number of cities nationwide. Grubhub partners with fast food outlets, chains, local restaurants, gas stations, and grocers.
Grubhub Membership
Grubhub+ membership costs $9.99 monthly and offers free delivery on orders of at least $12 from participating restaurants. Amazon Prime and some Bank of America customers may be eligible for a free one-year membership.
Grubhub Ease of Use
The Grubhub app is user-friendly and offers a variety of features to help customers find the best deals and rewards. With a dedicated "Rewards" tab, users can easily browse local and national restaurant deals. And they can earn credits through repeat orders from specific establishments.
Grubhub Pricing for Customers
Grubhub's delivery and service fees for suburban areas typically total $6.99. In urban areas, service fees can be between $5.39 and $6.99, with delivery times varying based on the distance from the restaurant.
Grubhub Level of Service
Grubhub is known for its efficient and reliable delivery services. With real-time order tracking, customers can monitor the progress of their delivery from the restaurant to their doorstep.
The platform ensures quick delivery times, typically 30 to 45 minutes, depending on the location and restaurant. And the company offers easy access to customer support in case of any issues or concerns with an order.
Grubhub Core Features
Grubhub's extensive restaurant network and loyal customer base make it a popular choice for restaurant owners. The platform's comprehensive marketing tools, including loyalty programs and promotions, help restaurants attract new customers.
And they keep existing ones coming back. Grubhub also offers integration with popular POS systems, streamlining order management for restaurant partners.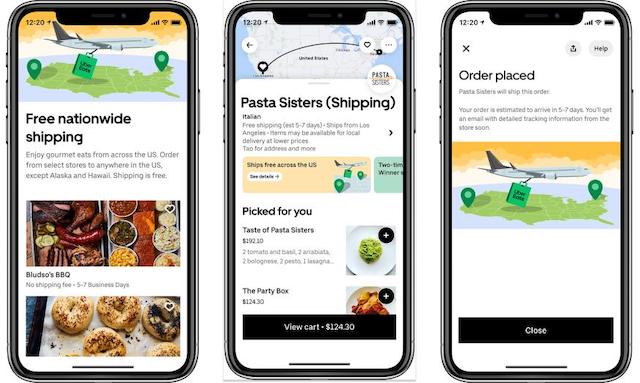 2. Uber Eats
The next entry on our list of the 4 best food delivery apps is Uber Eats, a top-rated food delivery app. This popular platform has grown from its roots as a ridesharing app, combining both services into one convenient app for users.
Uber Eats has established a strong presence in over 10,000 cities across 90 countries. And the company works with more than 320,000 restaurant partners worldwide.
Pros of Uber Eats
Extensive and reliable network of delivery drivers.
Access to Uber's extensive customer base.
Offers marketing tools to help restaurants connect with customers in the digital marketplace.
Cons of Uber Eats
Lack of integration with some restaurant POS systems, potentially increasing workload for staff and the risk of errors.
Intense competition with high-value partners makes it challenging for smaller restaurants to stand out.
Uber Eats Pricing for Restaurant Partners
Uber Eats charges a commission ranging from 15% to 30% on delivery orders and 6% on pick-up orders. Pricing varies based on the specific solutions your restaurant requires.
Uber Eats Availability
The platform delivers to more than 6,000 cities in over 45 countries. And it offers restaurant and retail store convenience food options in most areas.
Uber Eats Membership
Uber One members enjoy free delivery on orders of at least $15. They also receive 10% off eligible orders and discounts on ridesharing. The membership costs $9.99 per month or $99.99 per year.
Uber Eats Ease of Use
The Uber Eats app is easy to use. It includes a search bar for food types, specific restaurants, and searchable menus to save time. The app also shows helpful information, such as delivery fees and estimated delivery times before checking out.
In addition, the app offers features like group orders and a "Schedule Later" option for delayed deliveries. It also allows for simple re-orders for users who want to order their favourite meals again.
Uber Eats Pricing for Customers
Delivery and service fees can be on the higher side, particularly in suburban areas. But customers enjoy a wide variety of food options and fast delivery times. In urban areas, service fees are generally lower, making orders more affordable.

Uber Eats Level of Service
Uber Eats has a reputation for prompt service and quick refunds in case of any issues. The built-in tipping feature allows customers to tip their drivers within the app before or after the delivery.
Uber Eats is also known for its fast delivery times, often outperforming competitors in both urban and suburban areas.
Uber Eats Core Features
With its extensive network of drivers, Uber Eats helps ensure quick and reliable delivery services for partnered restaurants. The platform offers customizable menus and supports multiple languages, making it accessible to a wide range of customers.
Additionally, Uber Eats provides marketing support and promotional tools to help restaurants grow their online presence.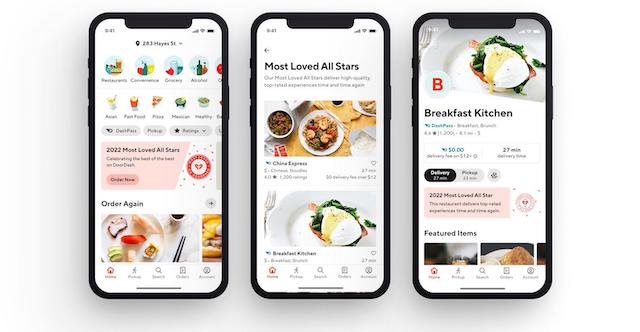 3. DoorDash
DoorDash has made a name for itself as a reliable food delivery app, but it goes beyond just delivering meals. It also offers delivery services from various retailers, including grocery stores, gas stations, and pet stores.
As the third entry of our 4 best food delivery apps, let's dive into the pros, cons, and other vital details about DoorDash.
Pros of DoorDash
Wide range of delivery options, including restaurants, grocery stores, and other retailers.
An extensive network of Dashers ensures reliable and efficient delivery service.
Integration with some point-of-sale systems for seamless order fulfillment.
Cons of DoorDash
Restaurants may face increased competition due to DoorDash's partnership with various businesses, not just other restaurants.
DoorDash Pricing for Restaurant Partners
DoorDash offers different solution tiers, each with its base cost. Only the premium tier provides commission-free delivery. For other tiers, restaurants can expect a commission of 15% to 30% on deliveries and 6% on pick-up orders.
DoorDash Availability
DoorDash delivers to more than 7,000 cities in the United States, Canada, Australia, Japan, and Germany. And it offers delivery from a variety of eateries and retail outlets.
DoorDash Membership
DoorDash offers a membership option called DashPass, which provides various benefits for subscribers. DashPass is available for a monthly fee of $9.99 or an annual fee of $96. And DashPass members enjoy free delivery on restaurant orders of at least $12 and a 10% reduction in service fees on eligible orders.
The membership also includes additional incentives for pick-up and grocery orders. By subscribing to DashPass, frequent users can save money on delivery fees. They can also take advantage of exclusive deals from partner restaurants, making the service even more convenient and cost-effective.
DoorDash Ease of Use
Navigating DoorDash's app is easy, thanks to its well-organized home screen, which features categories like "Wallet Friendly" and "Try Something New". The app also has an Orders tab that displays past orders for easy re-ordering. With over 390,000 partnered restaurants, DoorDash provides a wide selection of food options.
DoorDash Pricing for Customers
DoorDash's delivery fees vary, with some stores offering no delivery fees. At the same time, fast food restaurants may charge $3 to $4, and local restaurants may charge upwards of $6 or more.
DashPass members pay $9.99 per month or $96 per year. This affords them free delivery on restaurant orders of at least $12 and a 10% reduction on service fees for eligible orders.
DoorDash Level of Service
DoorDash prides itself on offering prompt delivery services. Customers can expect delivery times between 16 to 36 minutes in urban areas, depending on the distance. Suburban locations may experience delivery times of around 40 minutes.
The app also offers the ability to order non-food items, such as beauty products and pet supplies. But these orders may take slightly longer to arrive.
Customers have reported positive experiences with DoorDash's customer service, especially when it comes to resolving issues like forgotten items. In these cases, the company offers credits or refunds, making it easy for users to flag problems within the app.
DoorDash Core Features
DoorDash is considered one of the best food delivery apps because it stands out for its efficient delivery services. And there's the option of DoorDash Drive for restaurants that want to use their own delivery staff. The platform offers a user-friendly interface for both customers and restaurants.
As such, order management is simple and hassle-free. DoorDash's partnership with Square POS integration further simplifies the order processing experience for restaurant partners.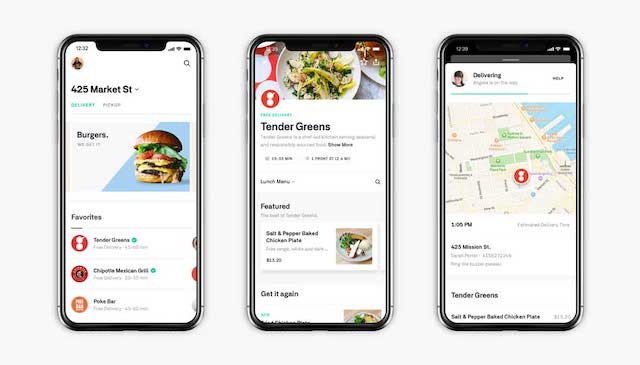 4. Postmates
Last but not least, on our list of the best food delivery apps is Postmates. Now owned and operated by Uber Eats, Postmates continues serving customers in specific geographical regions through its independent app.
It focuses on delivering from a wide range of businesses, including restaurants, retail stores, gas stations, and pharmacies. That's why Postmates is a solid choice for those who prefer a single app for multiple services.
Pros of Postmates
Access to Uber Eats' network of delivery drivers.
Unique benefit structure for Postmates members.
Extended delivery hours and strong brand recognition in some cities.
Cons of Postmates
Limited brand recognition in certain areas.
Competes with the extensive marketplace of Uber Eats restaurants.
Postmates Pricing for Restaurant Partners
Restaurants looking to partner with Postmates must also partner with Uber Eats. The pricing structure is identical, with a 15% to 30% commission fee on each delivery and 6% on pick-up orders.
Postmates Availability
Postmates serves more than 6,000 cities across 45 countries.
Postmates Membership
Postmates Unlimited membership costs $9.99 per month. With it, members enjoy free delivery on orders of at least $15 and a 5% discount on eligible orders.
Postmates Ease of Use
The Postmates app features a user-friendly interface similar to Uber Eats. Users can quickly sort restaurants by cuisine, delivery fees, and price. Customers can stay updated on their order's progress with in-app notifications and the ability to contact the delivery person directly.

Postmates Pricing for Customers
Postmates' delivery fees may be high, ranging from $0.99 to $3.99 from partner merchants and $5.99 to $9.99 from other merchants.
Service fees amount to around half of the order subtotal. And a small cart fee of $1.99 may apply if the order total falls below a certain amount. However, this varies by location but ranges from $10 to $12.
Postmates Level of Service
Despite the higher delivery fees, Postmates offers speedy service, often delivering orders within the shorter end of the estimated delivery window.
However, customers may find it challenging to contact customer support directly. That said, Postmates is an excellent choice for those who value flexibility and a clean, straightforward user interface.
Postmates Core Features
Postmates benefits from the extensive network of delivery drivers as part of the Uber Eats family. This ensures quick and efficient service for restaurant partners.
Postmates' unique benefit structure for its members helps restaurants attract and retain loyal customers. Moreover, its strong brand recognition in certain cities due to extended delivery hours makes it an appealing option for many restaurant owners.
Reasons to offer a delivery service
Some of the many benefits for restaurants that offer a delivery service include:
| Reasons | Details |
| --- | --- |
| Increased revenue | Offering delivery services opens up a new revenue stream. That's because it attracts customers who prefer to dine at home or cannot visit the restaurant in person. |
| Broader customer base | Delivery services enable restaurants to reach a wider audience beyond their immediate vicinity. Therefore, it expands its potential customer base. |
| Enhanced customer convenience | Providing delivery options caters to customers' busy lifestyles and preferences. This makes it more convenient for them to enjoy their favourite meals. |
| Competitive advantage | Customers increasingly expect the convenience of food delivery. Therefore, restaurants that offer delivery services can stay competitive in the market. |
| Better customer retention | By offering delivery services, restaurants can maintain relationships with existing customers who may not be able to visit the establishment regularly. |
| Improved brand visibility | Delivering food to customers' doorsteps increases brand exposure and can help build brand awareness in the community. |
| Adaptability during crises | Delivery services can help restaurants maintain business continuity during challenging times. For example, deliveries could be made during a pandemic or natural disaster, when dine-in options may be limited or unavailable. |
| Better utilization of resources | Restaurants experiencing slow periods or excess capacity can help make more efficient use of staff and resources with a delivery service. |
| Potential for upselling and cross-selling | Delivery services provide opportunities to upsell or cross-sell additional items. These might include beverages, appetizers, or desserts, increasing average order value. |
| Collection of valuable customer data | Offering delivery services enables restaurants to gather essential customer data. This data can be used for targeted marketing campaigns and to improve overall customer experience. |
Why choose Cloudwaitress to integrate with the best food delivery app
Cloudwaitress stands out due to its comprehensive features tailored to the needs of restaurant owners. Its user-friendly and feature-rich POS integration allows for easy management of various order types. And it offers a seamless and enjoyable experience for customers.
Restaurants can set custom delivery conditions and zones with an efficient delivery management system. Thus, ensuring that their service reaches the right customers in the most efficient way possible.
In addition to its impressive POS features, CloudWaitress offers excellent customer support. And it continuously updates its platform based on user feedback. This level of responsiveness ensures that the app remains ahead of the curve. And it gives restaurant owners the tools they need to excel in the ever-changing world of food delivery.
Furthermore, the affordability of CloudWaitress is evident with its free plan and competitive pricing for more advanced features. This makes it an attractive choice for restaurants of all sizes seeking a reliable and effective food delivery app.
Best food delivery apps conclusion
Food delivery apps have evolved considerably, with numerous options catering to different needs and preferences. CloudWaitress stands out as the ideal system to integrate your delivery apps with for restaurant owners.
Its exceptional POS integrations, specifically designed for restaurants, offering a seamless integration of online ordering, menu customization, and multi-location management. And its range of affordable pricing plans enables restaurants to expand their customer base and revenue streams.
The ability to create a custom-branded mobile app or integrate it with third-party delivery apps allows restaurants to enhance their delivery service. Choosing CloudWaitress means restaurant owners can take their businesses to new heights while providing unparalleled convenience and customer service.
Check out more restaurant business resources:
FAQs
Can I use multiple food delivery apps for my restaurant?
Many restaurants partner with multiple food delivery apps to expand their reach and customer base. However, assessing each app's fees and requirements is vital to ensure it aligns with your business goals.  Driving customers to order direct without commission should be a strong part of your online ordering strategy.
How can I determine which food delivery app is best for my restaurant's location?
Research the popularity and market share of food delivery apps in your area to understand which platforms are most used by customers. You can also inquire with other local restaurant owners about their experiences with different apps.
Are there any additional costs for customers when using food delivery apps?
Depending on the app and the restaurant, customers may encounter extra charges such as delivery fees, service fees, and small cart fees. It's important to communicate these charges transparently to maintain customer satisfaction.