If you're setting up your eatery's website, we recommend exploring the best restaurant website designs for inspiration. A restaurant's online presence attracts new customers and engages existing patrons. And a well-designed website showcases your culinary offerings and serves as a valuable tool for driving business growth.
Learning how to design a successful restaurant website is essential by incorporating vital information like menus, contact details, and opening hours. An effective restaurant website design is visually appealing, user-friendly, and conveys the unique atmosphere of the establishment.
Yang's Kitchen in LA is the perfect example of this. And you can achieve the same using CloudWaitress's all-in-one platform to build a responsive, mobile-friendly website and app for your restaurant.
This blog post will explore some inspiring examples of the best restaurant website designs. We'll discuss critical principles for creating an excellent site and help you design and build your own outstanding restaurant website.
Cloudwaitress has helped numerous website businesses attract more customers by improving their website design and function. Check out an example here.
Why a great website is vital for your restaurant
In today's digital age, having a well-designed and user-friendly website is crucial for the success of your restaurant. As more people rely on the internet to search for dining options, your online presence can make or break your business. Therefore, a great restaurant website is no longer a luxury but a necessity.
It enables you to make a strong first impression, showcase your menu and unique features, and keep your customers engaged and informed. With the right design and content, your website can become a powerful marketing tool that drives business growth and success.
Here are some reasons why investing in an exceptional restaurant website is vital:
Make a memorable first impression
First impressions are crucial. You only have a few seconds to capture your visitor's attention. A visually appealing and well-organized website can make a lasting impact, setting you apart from competitors.
By controlling the message on your website, you can rise above social media profiles and online review sites, making it the go-to source for information about your restaurant.
Showcase your menu offerings
A primary reason customers visit your website is to explore your menu. They want to know if your offerings cater to their preferences, dietary restrictions, or special occasions. Keeping your menu up-to-date and easily accessible is vital for engaging potential customers.
This also provides an opportunity to feature signature dishes that set you apart from the competition. And it's a great way to put you in the running for the best restaurant menu design website.
Highlight your restaurant's unique features
Whether you serve artistically presented dishes, boast stunning décor, or enjoy a picturesque location, your website should showcase your restaurant's unique features.
High-quality photos and videos can help visitors envision enjoying a meal in your establishment, enticing them to visit in person. Remember, people are visual, and having professional photography is essential for a solid online presence.
Engage and inform your customers
A successful website does more than just present information—it also encourages interaction and engagement. Integrating call-to-action buttons, newsletter opt-in boxes, and social media links can help you connect with your customers both online and offline.
Keep your website up-to-date with news announcements, promotions, event calendars, and online ordering options to keep your customers informed and engaged.

Common traits of the best restaurant website designs
The best restaurant website designs share common traits that make them stand out and effectively connect with customers. Here are the principal elements of the best restaurant website designs:
| Traits | Details |
| --- | --- |
| Essential Information | Make sure your homepage displays up-to-date contact details, address, business hours, and other relevant information, allowing visitors to quickly get in touch or find your location. |
| Social Media Integration | Embed links to your social media profiles on your website, encouraging guests to follow you and stay connected. |
| Menus | Since 93% of customers view menus online before dining out, provide an easily accessible and navigable HTML version of your menu, including both dine-in and takeout options. |
| Online Ordering and Reservations | Simplify the ordering process by including direct online ordering buttons and reservation options on your website. Also, provide links to third-party delivery platforms, if applicable. |
| Gift Cards and Merchandise | Offer gift cards and other merchandise for purchase directly from your website, driving additional revenue for your business. |
| Loyalty Program Information | If you have a loyalty program, display relevant information, and allow customers to sign up directly on your website. |
| Email Sign-Up Forms | Collect customer emails through an email subscriber form, helping you stay in touch and nurture relationships with your guests. |
| High-Quality Photos | Professional food photography can trigger the hormone that causes hunger, making it a powerful marketing tool. Showcase enticing photos of your dishes, interiors, and other unique aspects of your restaurant. |
| Your Story | Share your restaurant's history and brand through an "About Us" or "Our Story" page, creating an emotional connection with your customers. |
| Mobile Optimization | As 72% of online searches for restaurants take place on mobile devices, ensure your website is optimized for mobile, allowing customers to easily navigate your site on their smartphones. |
The 27 best restaurant website designs
This section will showcase some of the best restaurant website designs that effectively combine aesthetics, functionality, and user experience. These websites serve as excellent restaurant website design examples for any restaurant looking to create or revamp its online presence.
Use these outstanding examples as the best restaurant website design inspiration. This will ensure that it effectively represents your brand and enhances the overall dining experience for your guests.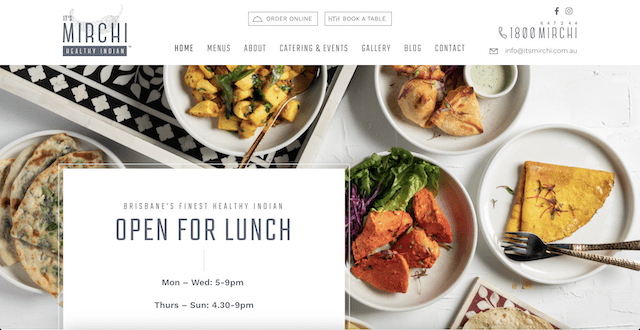 1. It's Mirchi Healthy Indian (Paddington, Australia)
It's Mirchi is a great example of a restaurant business that used Cloudwaitress to build an exceptional website. On their homepage, moving elements allow the business to display different hours for lunch and dinner times. Plus, they really catch the eye of visitors with colourful photos of delicious menu items.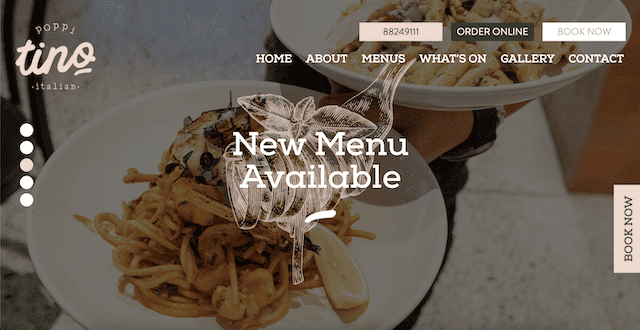 2. PoppiTino Italian (Kingswood, Australia)
PoppiTino provides a clear, delightful user experience on their website designed using Cloudwaitress. It's super easy to navigate thanks to large headers in the top menu. Plus they provide plenty of photos of food and the venue to show what an inviting experience their restaurant offers.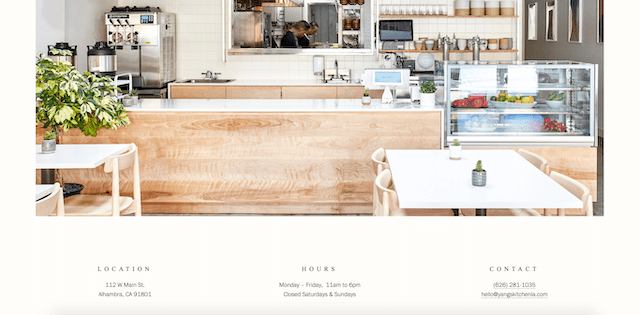 3. Yang's Kitchen (Los Angeles, CA)
Another on our list of the best restaurant website designs is Yang's Kitchen. This website stands out for its simplicity and clarity in presenting essential information.
The homepage prominently displays the address, hours, and contact details, making it incredibly easy for visitors to find what they want. This website's design emphasizes the importance of providing basic information upfront and center.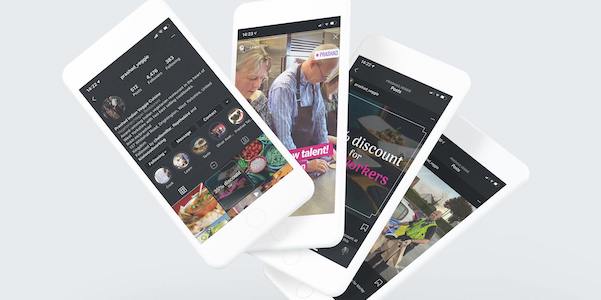 4. Prashad (Bradford, UK)
Prashad, an award-winning Northwest Indian restaurant, features a clean, straightforward design highlighting its food, story, and various offerings. The homepage includes a slideshow of mouth-watering images and a prominent 'book now' button.
With simple navigation, visitors can easily book a table, explore the restaurant's best-selling cookbook, or sign up for cooking classes.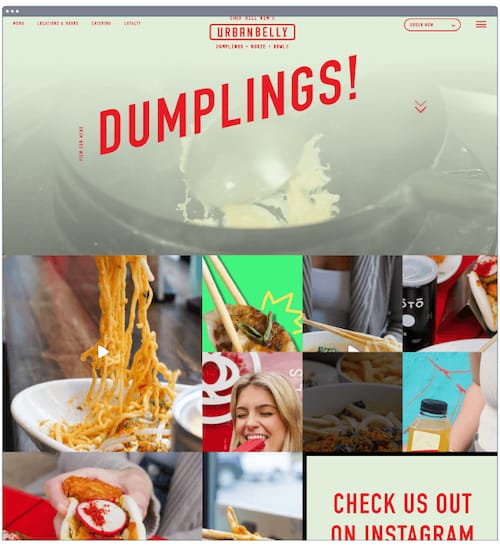 5. Urbanbelly (Chicago, IL)
Urbanbelly's website captures the essence of the Asian fusion restaurant through full-screen video, minimal text, and unique graphics. The immersive experience transports visitors into the kitchen, where they can watch dishes being prepared.
The website also incorporates a social media element with an Instagram feed at the bottom of the page, allowing users to seamlessly engage with the restaurant's online presence.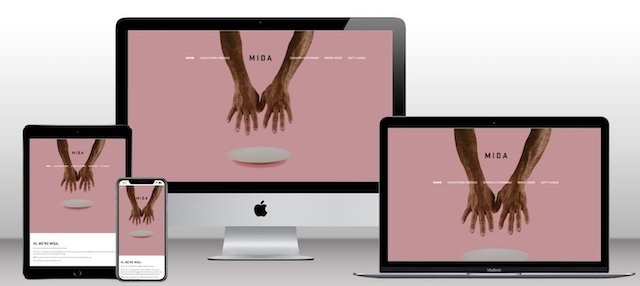 6. Mida (Boston, MA)
Mida's Italian restaurant website exudes a trendy and cool restaurant website design that matches its South End location.
The website encourages visitors to make reservations and place online orders with a sleek design featuring a shadowy Millennial pink background, an intriguing photograph, and a stylish sans serif font.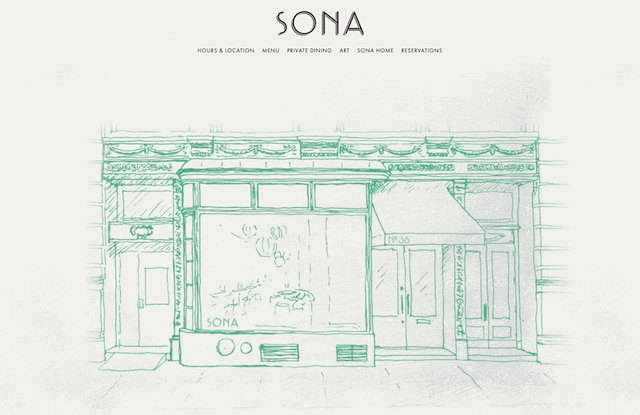 7. SONA (New York City, NY)
Another one of the best restaurant website designs is the SONA website. SONA's website offers a hidden veil to the vibrant, eclectic dining experience at Priyanka Chopra Jonas's Indian restaurant.
The elegant and clean design leaves visitors curious about the atmosphere and decadent food. Users can easily browse the menus and book reservations directly through the website, providing a seamless experience.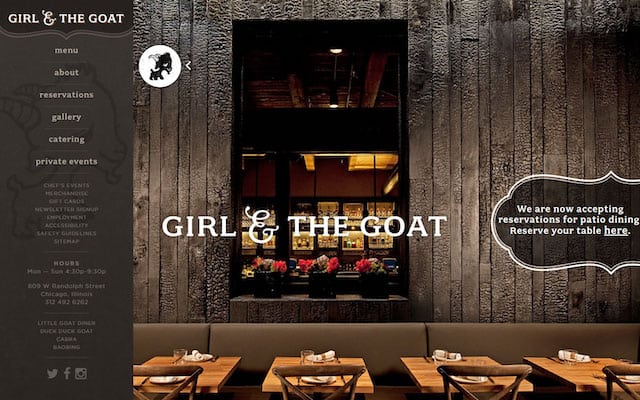 8. Girl & the Goat (Chicago, Illinois)
Girl & the Goat's website showcases the distinct personalities of its multiple locations through a sleek side navigation bar and relevant information.
By featuring photos highlighting each location's ambiance, the website caters to visitors looking for a unique dining experience in either Los Angeles or Chicago.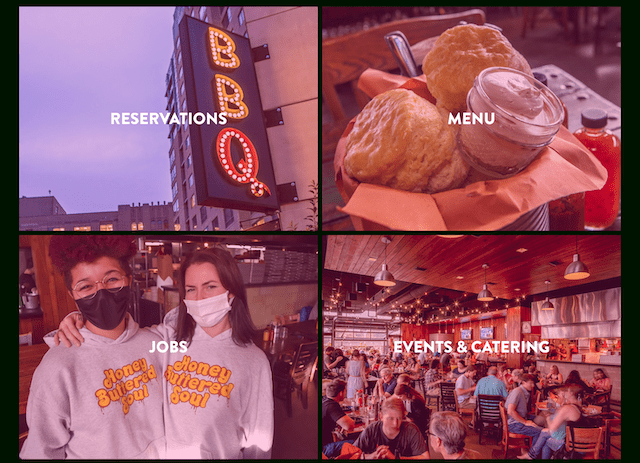 9. Sweet Cheeks (Boston, MA)
Sweet Cheeks emphasizes the importance of showcasing the menu in an easily accessible webpage format.
By doing so, the restaurant ensures that it's easy for visitors to browse the menu items and helps improve search engine visibility.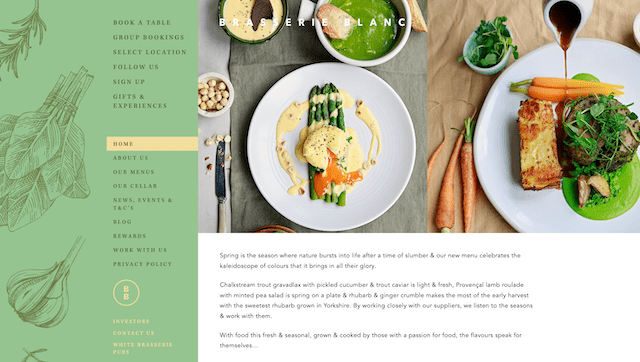 10. Brasserie Blanc (Multiple UK Locations)
Brasserie Blanc's website caters to multiple locations with clear and organized navigation. The website covers essential queries such as booking a table, selecting a location, and signing up for updates.
The site also includes quick links to menus, private dining, vouchers, and events, ensuring that users can easily find what they're looking for.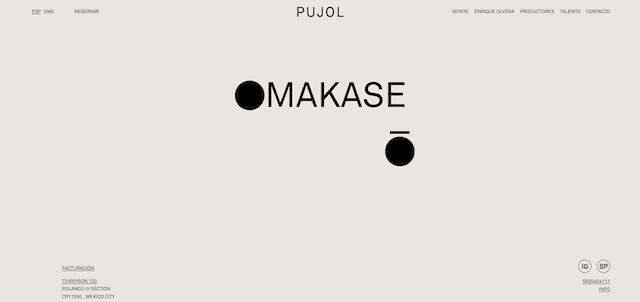 11. Pujol (Mexico City, Mexico)
Pujol's website is an elegant showcase of Mexican gastronomy with a minimalist and modern restaurant website design.
The site provides essential information, including menus, location, and reservation links, while maintaining a sophisticated aesthetic. The website's mood and ambiance convey the restaurant's high-quality dining experience.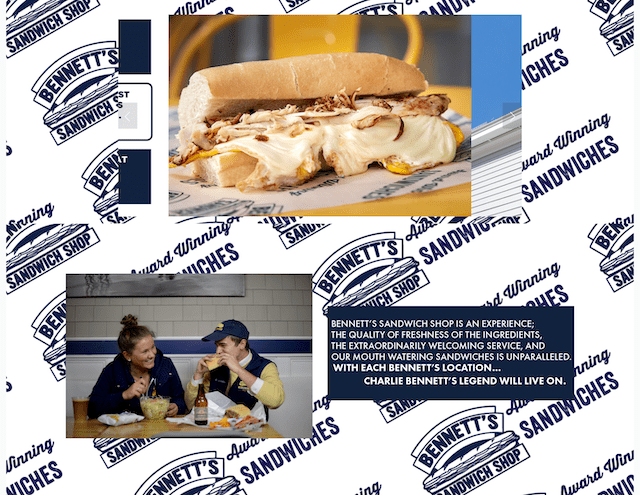 12. Bennett's (Kennebunk, ME)
Bennett's, a sandwich shop with beach-town origins, demonstrates that appealing brand design isn't just for upscale restaurants. The website features a nostalgic line-drawn sandwich, modern logo font, and sharp black-and-white backdrop accented by a fun, bright yellow colour.
The design reflects Bennett's sandwich shop's casual yet stylish atmosphere while highlighting its delicious offerings.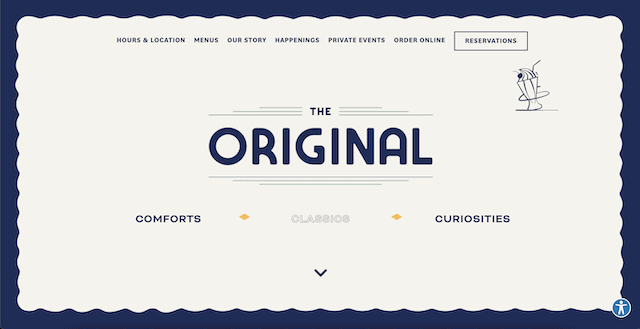 13. The Original (Denver, CO)
The Original, a popular Denver diner, reinvents the neighbourhood eatery experience with imaginative twists on classic dishes. Their website captures this innovative spirit by incorporating quirky illustrations of malts and T-bone steaks that bring the site to life.
The navy border maintains focus while browsing menus and discovering new happenings within the restaurant. With a prominent "Reservations" button, The Original's website efficiently converts online visitors into paying customers.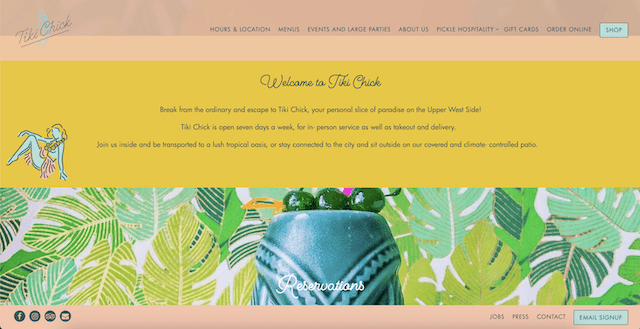 14. Tiki Chick (New York City, NY)
Tiki Chick's website embraces the brand's playful vibe by showcasing bright colours and tropical-themed branding. The site cleverly uses an embedded Instagram feed to give users a visual taste of Tiki Chick's colourful cocktails, tropical eats, and modern interior.
This social media integration keeps the content fresh and engaging, encouraging visitors to explore further and make reservations.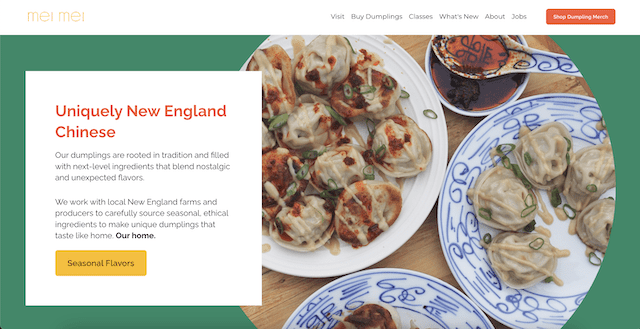 15. Mei Mei Street Kitchen (Boston, MA)
Boston's Mei Mei Street Kitchen is a prime example of how rich content can attract and engage guests online. Their website offers comprehensive information about the restaurant, its story, and its commitment to local and sustainable ingredients.
The site also includes links to recent press coverage, a blog, and a recipes page with posts about their food, events, and more. This wealth of content creates a deeper connection between the restaurant and its audience, drawing in potential customers and keeping existing ones engaged.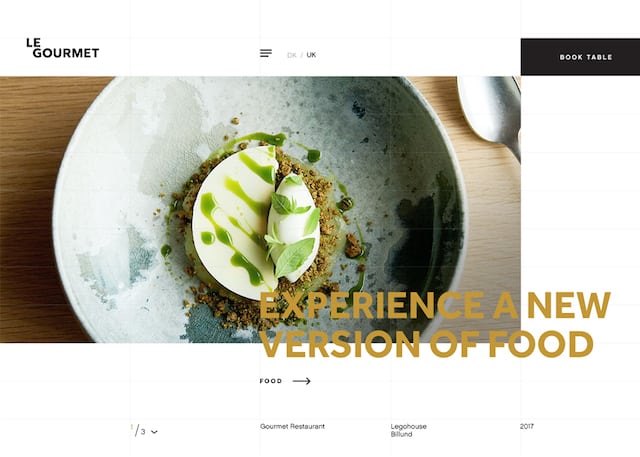 16. Le Gourmet (Billund, Denmark)
Le Gourmet, a gourmet restaurant located within the Lego House in Billund, Denmark, has a unique and quirky website design inspired by Lego blocks. Short videos on the desktop version of the site help convey the "experience" of dining at Le Gourmet.
The site's design prioritizes essential elements like a prominent "Book Table" button, easy access to food and wine menus, and clear navigation cues. The mobile version of the site is similarly user-friendly, inviting visitors to explore the food section and keeping the booking button conveniently within reach.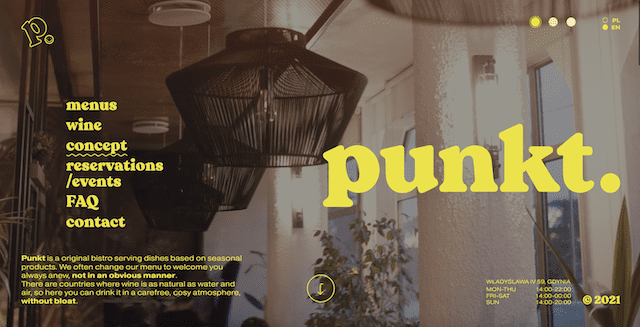 17. Punkt (Gdynia, Poland)
Punkt is a vibrant bistro with a website showcasing its lively atmosphere and diverse offerings. The full-screen video captures the essence of Punkt's dining space, giving visitors a taste of what to expect.
The site also features the restaurant's food and wine approach, overall concept, and event services. A unique feature at the top of the page allows users to change the colour scheme, a testament to Punkt's innovative spirit.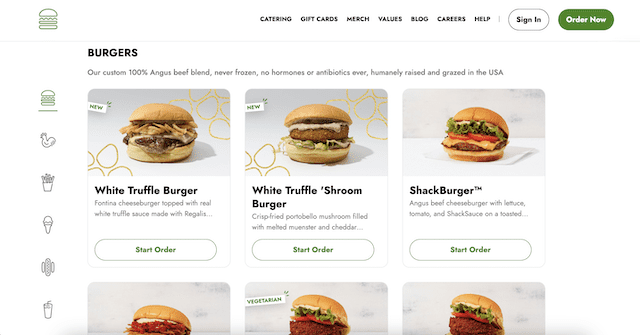 18. Shake Shack (International Chain)
Shake Shack, a popular fast-food chain, has a modern, user-friendly website that appeals to a broad audience. The site's colour scheme is black and white with bright, featured green, and it prominently displays the menu on the home page.
Detailed photos and descriptions of each item, along with allergen information, make it easy for visitors with dietary restrictions to choose suitable options. This level of accessibility is essential for serving a diverse clientele effectively and safely.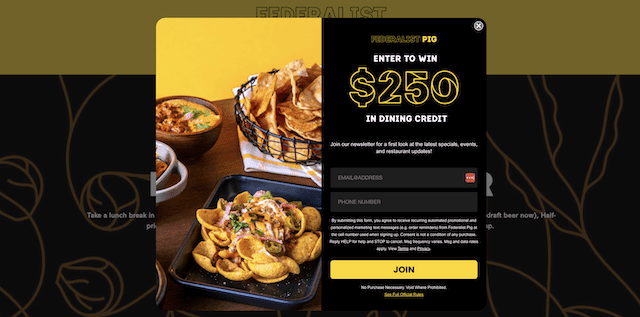 19. Federalist Pig (Washington, DC)
Washington, DC's Federalist Pig, is known for its iconic barbecue offerings. It was even featured in an episode of Netflix's House of Cards. Its website is a visual treat, with bright colours, cheeky line illustrations, and mouth-watering food photography.
The site's clean layout and easy navigation show that restaurant websites can balance bold design with user-friendliness.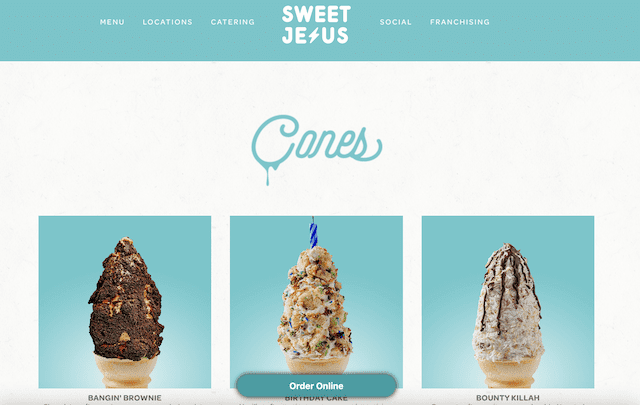 20. Sweet Jesus (Toronto, Ontario)
Toronto's Sweet Jesus ice cream shop showcases its menu with an eye-catching grid layout and mouth-watering photos. This clever design approach highlights the shop's Instagram-worthy cones, enticing visitors to try their unique frozen treats.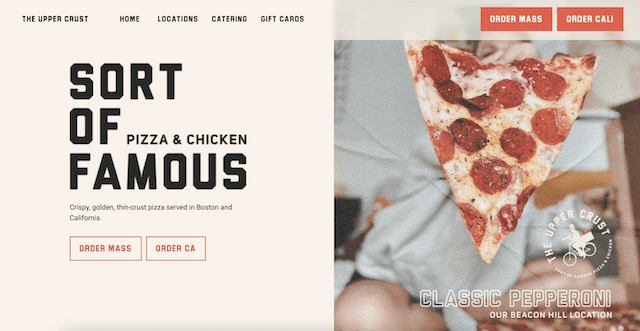 21. Upper Crust Pizzeria (Multiple US Cities)
Upper Crust Pizzeria, like many pizzerias, relies heavily on online orders. Their website prominently features a button at the top, allowing visitors to quickly place an order.
By offering online ordering directly through their website, Upper Crust Pizzeria takes advantage of customer traffic and keeps more of the profits. Restaurants that optimize their websites for online ordering, whether for takeout or delivery, can tap into a significant additional revenue stream.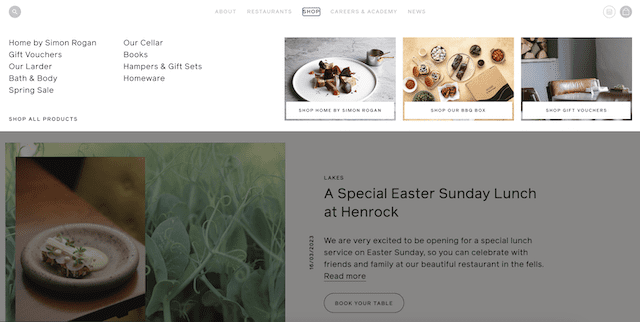 22. Simon Rogan Restaurants (Various: UK & Hong Kong)
British Chef Simon Rogan's website serves as a portal to his various restaurants while representing his overarching brand. Visitors can click on the logo for the desired venue and instantly access content specific to that restaurant.
The site's design is concise and mobile-friendly, with clear and prominent buttons for booking tables, rooms, experiences, or purchasing vouchers. Additional features and information are easily accessible through the navigation footers and headers.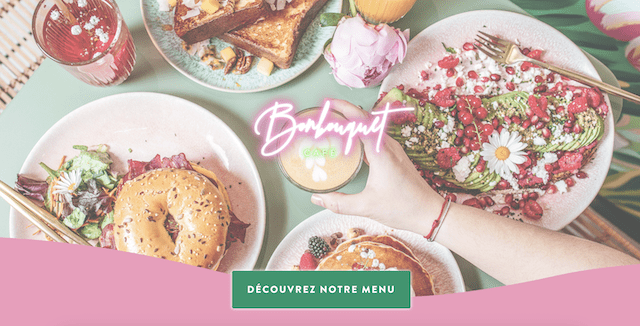 23. Bon Bouquet Café (Paris, France)
Bon Bouquet Café in Paris embraces its playful atmosphere through its website's vibrant design. The neon sign atop the colourful hero image immediately captures the visitor's attention.
The website's visuals invite users to explore the café's offerings, including a pineapple mojito paired with eggs Benedict—a delightful combination for brunch lovers.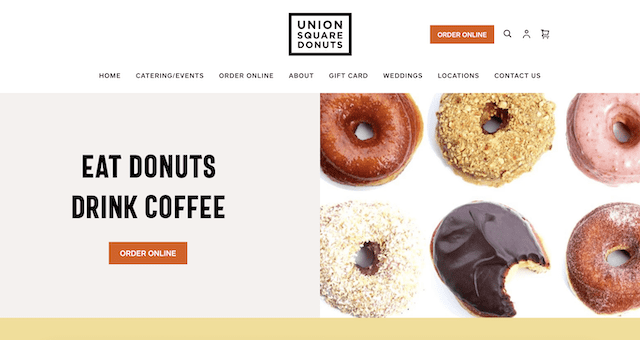 24. Union Square Donuts (Multiple MA Locations)
Union Square Donuts demonstrates the importance of high-quality food photography on restaurant websites. Their site features mouth-watering images of their delicious donuts, which entice visitors to try them out.
With 45% of restaurant patrons explicitly looking for food photos on restaurant websites, investing in excellent photography is crucial for attracting customers.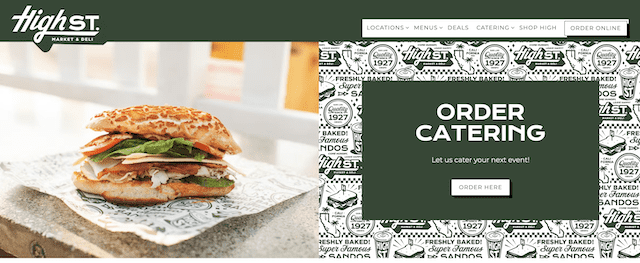 25. High Street Market & Deli (San Luis Obispo, CA)
High Street Market and Deli, a historic establishment in San Luis Obispo, boasts a modern and impactful website design. Fun and illustrative branding elements are scattered throughout the site, especially on their menus.
The website allows visitors to order catering and shop for branded merchandise and goods, catering to their most devoted fans.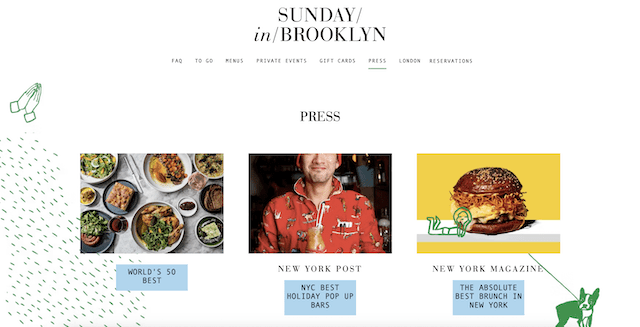 26. Sunday in Brooklyn (New York City, NY)
Brooklyn's brunch spot, Sunday in Brooklyn, features a clean navigation bar on its website, making it easy for customers to explore different sections.
High-quality images draw the eye and entice visitors to learn more about the restaurant's offerings.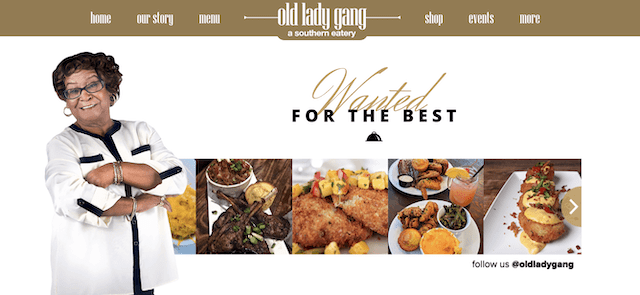 27. Old Lady Gang (Atlanta, GA)
Old Lady Gang in Atlanta, GA, emphasizes the importance of seamless reservations on a restaurant's website. The site features a reservation form at the center of its homepage, allowing guests to view available times without needing to call the restaurant.
This convenience enhances the user experience and encourages more reservations.
How to design a restaurant website
Creating one of the best restaurant website designs is about understanding customers' needs. And it's about ensuring that their experience is seamless and enjoyable.
The best restaurant website designs prioritize user experience by presenting essential information clearly and prominently. And they showcase the unique atmosphere and offerings of the establishment.
Including engaging visuals, easy navigation, and seamless social media integration are vital. It's how these websites successfully attract visitors and encourage them to explore book reservations and place orders.
In this section, we'll discuss the essential elements of an effective restaurant website and provide tips on implementing them for maximum impact.
Prioritize key information
Customers primarily seek essential information such as menus, addresses, opening hours, contact details, and promotions. Make sure these elements are easily accessible and prominently displayed on your website. Consider adding online ordering and reservation capabilities to enhance the user experience and drive sales.
Optimize menus and pricing
Include an easy-to-download PDF menu on your website, ensuring it's optimized for a small file size. If possible, display your menu directly on the website with a mobile-friendly layout. Always show your prices to avoid uncertainty and to ensure customers know what to expect when they visit your restaurant.
Keep content fresh and relevant
Avoid pages that require frequent updates unless you plan to maintain them regularly. Outdated content can harm your brand image and discourage potential customers. Instead, focus on providing current and relevant information that enhances the user experience.
Showcase high-quality images
High-quality images of your dishes can entice customers and help them visualize their dining experience. Invest in professional photography or use a modern smartphone camera to capture appealing images. Avoid using washed-out or poorly lit photos that don't showcase your dishes at their best.
Eliminate intrusive elements
Steer clear of gimmicks such as intrusive animations and background music that can hinder information accessibility. Focus on providing a clean, user-friendly interface that allows customers to access the information they need quickly and easily.
Develop a mobile-friendly website
With the growing number of mobile users, creating a website that displays well on smaller devices is essential. A mobile-friendly design improves the user experience and positively impacts your website's search engine ranking.
Integrate online ordering and reservations
Incorporating online ordering and reservation systems can enhance customer interaction and increase sales. These features can streamline business operations and make it more convenient for customers to engage with your restaurant.
Stay true to your restaurant's purpose
The primary goal of a restaurant website is to provide essential information and functionality for potential customers. Focus on making this information easily accessible and ensuring your website effectively represents your brand.

Build your restaurant website with Cloudwaitress
Creating a stunning and impactful restaurant website has never been easier, thanks to Cloudwaitress. This all-in-one platform offers comprehensive features and services designed to help restaurants establish a solid online presence and streamline their operations.
This section will explore the key benefits of using CloudWaitress to create or upgrade your restaurant website.
Responsive, mobile-friendly design
CloudWaitress understands the importance of a seamless browsing experience across various devices. With its mobile-friendly design, your restaurant website will look great and function smoothly on smartphones, tablets, and desktops, ensuring an enjoyable ordering experience for all your customers.
Showcase your offerings with style
With CloudWaitress, you can easily display your menus, dishes, and business information in an accessible and visually appealing manner. Add your logo, header, background image, and dish images to create a personalized look for your website. Choose from hundreds of Google Fonts to give your site a perfect touch of personality.
Improve your online visibility
CloudWaitress's SEO-friendly features help your restaurant get discovered by search engines. Customize your page title and meta tags to enhance search engine visibility and attract potential customers to your website.
Enhance customer interaction
Customers can quickly contact and locate your restaurant with a built-in contact form and embedded maps. These features improve communication and help build trust between your restaurant and its patrons.
Seamless integration and customization
CloudWaitress allows you to link your new website to an existing one or embed your ordering interface directly into your existing website using an iFrame. Additionally, you can connect your custom domain name for a more polished user experience.
Security and flexibility
Your restaurant website will be SSL-secured, with CloudWaitress's servers automatically generating and managing SSL certificates to enable HTTPS security. Moreover, the platform lets you inject your own CSS and JavaScript for extra customization and the addition of custom scripts and widgets.
Design your own mobile app
In addition to building a fantastic website, CloudWaitress also enables restaurants to design and create their own mobile apps, further expanding their digital presence and providing customers with an even more convenient way to interact with their business.
More than just a website builder
CloudWaitress is more than just a restaurant site design tool. It also provides a comprehensive suite of core product offerings, including a restaurant delivery system and a POS system, helping you streamline various aspects of your restaurant's operations and enhance overall efficiency.
Best restaurant website designs conclusion
Creating one of the best restaurant website designs is essential for staying competitive in the food and hospitality industry. Analyzing the best restaurant website designs listed above will help you understand the critical requirements of a successful site.
And leveraging the power of a platform like Cloudwaitress can help you establish a strong online presence that appeals to your target audience and drives business growth.
Remember, the best restaurant website designs prioritize user experience and provide essential information. This includes menus, contact details, and opening hours.
These websites also focus on convenience and accessibility for their customers. With these principles in mind, you'll be well on your way to designing a website that looks great and effectively promotes your restaurant.
Check out more restaurant business resources:
FAQs
How important is website speed for a restaurant website?
Website speed is crucial, as slow-loading pages can frustrate users and lead to potential customers leaving your site. Optimize your website for speed by compressing images, using efficient code, and leveraging caching techniques.
Should I use a template or hire a professional designer for my restaurant website?
Both options have their benefits. Using a template can be cost-effective and quick while hiring a professional designer can result in a more unique and tailored design. Consider your budget, time constraints, and desired customization level when deciding.
How can I ensure my restaurant website is accessible to users with disabilities?
Implementing accessibility features, such as alternative text for images, keyboard navigation, and proper use of headings, can make your website more inclusive. Adhering to the Web Content Accessibility Guidelines (WCAG) can help ensure your site is accessible to a broader audience.