Running a successful restaurant in today's competitive market has restaurant owners on the hunt for the best restaurant POS systems.
Restaurant owners and managers constantly seek ways to streamline operations, increase efficiency, and enhance customer experience. A robust and reliable POS system is one of the most critical components in achieving these goals.
A top-notch restaurant POS system streamlines operations, improves efficiency, and enhances customer experience. Key features to consider include seamless integration, flexible payment options, custom branding, and comprehensive reporting.
CloudWaitress stands out as an ideal choice for restaurants using Windows-based POS systems. Its powerful features and no-commission policy make it the perfect solution for restaurant owners looking to optimize their business.
This blog post will delve into the features and benefits of the best restaurant POS systems. And we'll detail how each is designed to transform your restaurant's daily operations and boost your bottom line.
Using a POS with Cloudwaitress
Cloudwaitress is an all-in-one restaurant online ordering system tailored for restaurants and it integrates seamlessly with the best restaurant POS systems. With Comparewise and a POS, you'll have a user-friendly solution for accepting online orders and reservations.
This makes it a reliable choice for restaurant owners who want to grow their business while maintaining a smooth customer experience.
Pros of Cloudwaitress
Unlimited growth potential with various ordering options available in-platform.
Seamless integration with online ordering and reservation booking.
Real-time performance insights and in-house marketing features.
Accept payments reliably from anywhere without relying on external software.
Works online and offline.
iPad and Windows compatible.
Can integrate with top POS systems.
Over 1200+ integrations.
Cloudwaitress Pricing
Cloudwaitress offers three pricing tiers to cater to businesses at different stages of growth:
Starter Plan: Ideal for growing restaurants, this free plan includes 100 orders & reservations, all order types & services, and an online ordering website. You'll also benefit from promotional codes, performance reports, system integrations, a custom domain with free SSL, and API access.
Standard Plan: Perfect for busy locations at $39 per store/month, this plan offers unlimited orders and bookings. It includes all features from the Starter Plan and 5 staff accounts.
Enterprise Plan: Designed for organizations at $299/month, the Enterprise Plan includes all Standard Plan features. And it allows for unlimited staff accounts and high-priority support.
With flexible pricing options, Cloudwaitress grows with your restaurant, providing a tailored solution for your needs.
Cloudwaitress Hardware
Compatible with iPad and Windows devices.
Supports Windows, Android, and Linux devices for receipt printing.
Optimized for standard thermal printers used across retail operations but works with any printer or paper size.
Cloudwaitress Ease of Use
User-friendly admin dashboard for managing settings, menus, orders, and reservations.
Real-time order management interface without page reloads.
Staff accounts with restricted access for improved security.
Designed for in-store setup on a tablet or PC for staff use.
Cloudwaitress Stand-Out Features
Dine-in and room service options with QR code and NFC ordering capabilities.
Easy-to-use REST API in JSON format for automating tasks or creating custom integrations.
Seamless integration with various online payment providers, including Stripe, PayPal, and POLi.
The importance of a good POS system
A reliable and efficient Point of Sale (POS) system is essential for any restaurant, as it serves as the backbone of daily operations. Implementing one of the best restaurant POS systems streamlines various tasks. These include managing orders, tracking inventory, processing payments, and monitoring staff performance.
Automating these processes lets the POS system improve the restaurant's overall efficiency. And it allows staff to focus on providing exceptional customer service and crafting quality dishes.
In today's competitive market, ensuring you have one of the best restaurant POS systems is crucial for enhancing the customer experience. With features like real-time order updates, integrated online ordering, and customizable menu options, the best restaurant POS software can help attract and retain customers.
Additionally, it provides valuable insights into customer preferences and buying patterns. This empowers restaurant owners to make informed decisions about menu offerings, promotions, and pricing strategies.
As such, having the top restaurant POS system is vital for any eatery. It improves operational efficiency, enhances customer satisfaction, and ultimately contributes to the success and growth of the business.
Tips for choosing the best restaurant POS system
When choosing the best restaurant POS system for your establishment, consider the following key factors:
Restaurant-specific needs: Consider the size of your restaurant, the type of cuisine you serve, and whether you have multiple locations.
Payment processing: Ensure the system allows you to accept card payments and provides options for connecting with various third-party processors.
Front-of-house management: Look for features that streamline tableside ordering, splitting and authorizing checks, communicating with the kitchen, and managing your floor plan.
Menu and inventory management: Find a system that enables menu customization, inventory tracking, noting modifications, special offers, and sold-out items.
Employee management and access: Choose a POS system that allows you to set up employee access and permissions. It should allow you to schedule shifts, let employees clock in and out, and split tips.
Reporting capabilities: Look for "actual" versus "theoretical" cost reports on food and labour. And ensure it can run reports on your restaurant's different sales channels.
Integrations: Source a system that lets you connect to additional internal or third-party tools. These may include online ordering apps, email marketing software, and payroll services.
Customer support: Ensure the POS provider offers reliable customer support, such as phone, chat, and email support, and implementation and training services.
Pricing: Consider both upfront costs for hardware and software and monthly fees for support, maintenance, and processing fees.
Customer reviews: Read customer reviews to avoid common problems or issues with specific restaurant POS systems.
With these factors in mind, you can select the best POS system for restaurants tailored to your needs.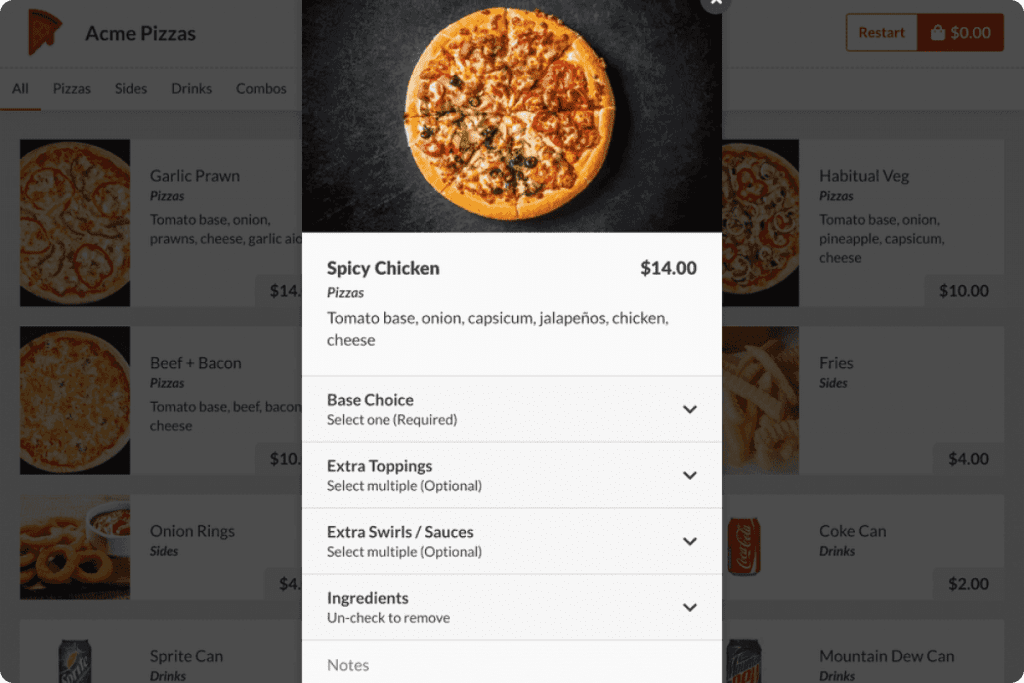 5 best restaurant POS systems
1. Lightspeed Restaurant POS
Lightspeed Restaurant POS is a versatile and user-friendly solution for cafes and small to medium-sized food establishments. With a focus on fast service and efficient inventory management, Lightspeed is perfect for businesses prioritizing a smooth and speedy customer experience.
Pros of Lightspeed Restaurant POS
24/7 phone, text, and email support.
Free online training with a specialist.
It may be compatible with hardware from different brands.
Commission-free online ordering.
Contactless payments.
Chargeback management.
Built-in takeout and delivery capabilities.
In-depth ingredient management.
Reservation management.
Customer-facing loyalty app.
Cons of Lightspeed Restaurant POS
Some features, such as accounting integrations and customer loyalty programs, require additional purchases.
Lower pricing is only available with annual contracts.
Loyalty and gift cards are only available as add-ons for lower-tiered plans.
Early termination fees apply.
Flat-rate processing may be expensive for high-volume restaurants.
Lightspeed Pricing
Lightspeed Restaurant POS offers three pricing plans:
Essentials Plan: $99/month ($69/month with annual billing) – Ideal for quick-serve restaurants, this plan includes core features like iPad-based ordering, tipping, takeout, and delivery and extensive menu management.
Plus Plan: $246/month ($189/month with annual billing) – Suitable for larger restaurants, this plan adds a loyalty program, floor planning, tableside payments, pre-authorizations, and multi-location management.
Pro Plan: $519/month ($399/month with annual billing) – This plan offers advanced features such as advanced inventory management, hotel revenue management, and QR code ordering.
Additional costs may apply for third-party integrations and add-on features.
Lightspeed Hardware
This top restaurant POS system is iPad-based. And the company offers a range of hardware bundles and individual components through its website. Pricing for hardware is available upon request.
And compatible hardware includes countertop POS systems, standalone iPads for tableside ordering, and iPad kiosks for self-ordering.

Lightspeed Ease of Use
Lightspeed Restaurant POS boasts a sleek user interface and comprehensive inventory management capabilities. It may take some initial effort to set up, but inventory tracking is automated once operational.
And the quick-serve mode enables servers to take orders efficiently. The system also includes several integrations for hotel and reservation management.
Lightspeed Stand-Out Features
Robust floor management and seamless kitchen-to-floor integration.
Customer management, including profiles, promotions, and discount codes.
Customer tracking and inventory tracking.
Delivery and contactless online ordering.
Contactless QR code orders.
Support for credit, debit, and mobile payments.
Offline mode for uninterrupted operations during connectivity issues.
24/7 customer support.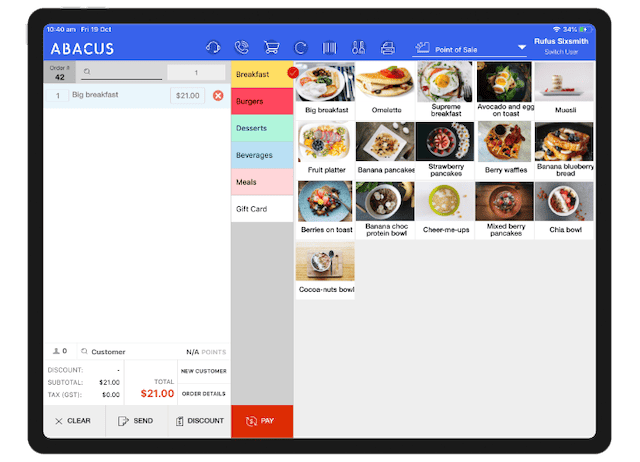 2. Abacus POS
Abacus POS is a great solution if you're looking for a POS system to integrate seamlessly with Cloudwaitress. You can get the hardware and POS software you need all in one place.
Abacus POS Pricing
Abacus POS offers two pricing plans:
Standard Plan: $69 (1 device) – Comes with full POS features along with reporting and customer support.
Professional Plan: $189/month (4 devices) – Get all of the features from the standard plan applied to 4 of your devices.
Abacus POS Features
It is a clean, simple and easy-to-use software that can handle any situation in the business. All the data is readily available from any place and anywhere as it is cloud-based. The software allows one to innovate by giving customers a new dimension in paying and ordering in a seamless process.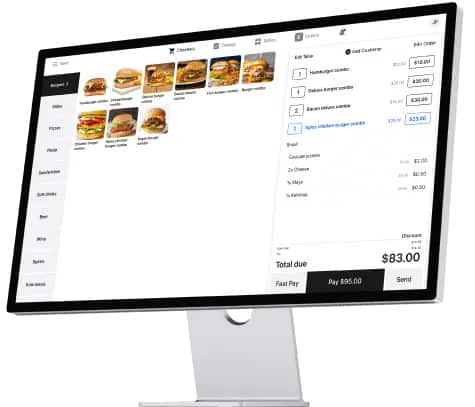 3. PUSHPOS.com
PUSHPOS employs cutting-edge cloud and connectivity technology to provide the world's most technologically advanced, dependable, and user-friendly POS system. The best part is, it connects seamlessly with your Cloudwaitress account.
Whether you're a small business in need of a simple and easy-to-use POS system, or a multi-site operation in need of a plethora of features and rock-solid reliability, PUSH has you covered.
PUSHPOS Pricing
Standard Plan: starting from $60/month – Utilize all essential features to streamline your business operations and increase revenue.
Multi-Store: custom pricing – Get a custom plan that scales as you expand your business.
Flexible: custom pricing – The most cost effective plan for your business incorporating a POS and payment solution in one.
PUSHPOS Features
PUSHPOS provides lots of features including:
Discounted subscription when you combine payments
Basic Subscription Features
24/7 Support
Quick and Easy Implementation
Access to all partner integrations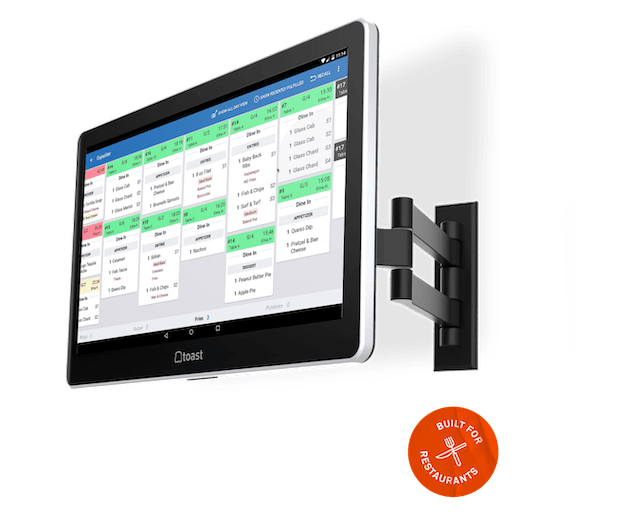 4. Toast POS
Toast POS is second on our list of the best restaurant POS systems. It is a feature-packed, restaurant-focused POS system tailored to cater to the needs of a wide range of restaurant types.
These include food trucks, hotel restaurants, fine dining, casual dining, fast casual, bars, nightclubs, pizza joints, cafe bakeries, and multi-location groups.
Pros of Toast POS
Numerous digital ordering options.
Excellent loyalty program.
Durable proprietary hardware.
Advanced employee management.
Offers a free plan.
Built specifically for restaurants.
Digital ordering.
24/7 phone, email, and chat support.
In-house payroll software is available.
Online ordering is included in some plans.
In-house delivery platform available.
0% interest financing and pay-as-you-go plans are available, subject to approval.
Cons of Toast POS
The free plan doesn't include digital ordering.
API is only available for custom plans.
A two-year contract is required for software subscriptions.
A long-term commitment with early cancellation fees.
High transaction fees for online orders.
Toast POS Pricing
Toast offers a variety of pricing plans, including:
Quick Start Bundle: $0
Core Plan: $69
Growth plan: $165
Custom Plan
Payment processing fees depend on whether you pay for hardware monthly or buy it upfront. Rates are at 2.99% + 15c if you pay monthly or 2.49% + 15c if you buy upfront.
Toast POS Hardware
Toast's hardware options are designed to withstand spills, grease, and heat. Hardware options include self-serve kiosks, kitchen display systems, handheld POS systems, and guest displays. These are built exclusively on the Android platform, ensuring durability in the restaurant industry.
Toast POS Ease of Use
Toast POS is designed to be user-friendly and easy to navigate, with seamless integration with popular third-party services. These include Uber Eats, DoorDash, and RASI. The system allows for contactless ordering, with customers able to scan a QR code to access the digital menu and place orders.
Toast POS Stand-Out Features
Strongest POS till features in Tech.co testing.
Solid tableside orders, payment, and management.
Good analytics and reporting.
Flat-rate delivery.
Commission-free curbside pickup or contactless delivery.
Supports online ordering.
Real-time menu updates.
Virtual POS (Toast Now) supports online ordering, takeout, and contactless delivery.
Toast Now is entirely free for the first three months.
Toast offers one of the best loyalty programs linked to customer payment methods.
Excellent floor planning.
Order firing by prep time.
Extensive tip pooling and splitting.
Large-party service management.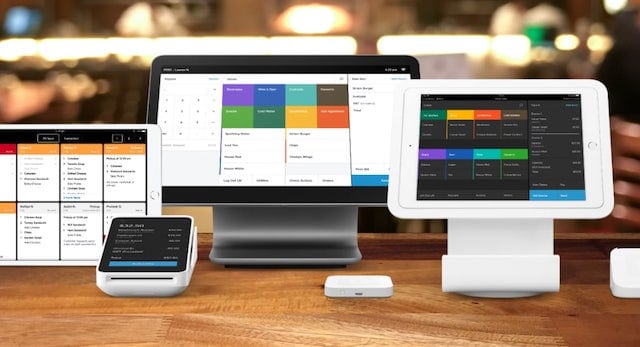 5. Square for Restaurants POS
Square for Restaurants POS is popular for small restaurants, cafes, food trucks, and other food service businesses. Its highly affordable, transparent pricing and rich features make it cost-effective and versatile. This is why Square for Restaurants is regarded as one of the best restaurant POS software systems.
Pros of Square
Free basic plan available, offering a wide range of features.
Compatible with both iOS and Android devices.
Offers payment plans for hardware purchases.
No long-term contracts or installation fees.
In-house payroll and online ordering capabilities.
Retail and appointment scheduling features.
Unlimited POS devices on the free plan.
Affordable hardware options.
Super easy to use.
Coursing is available with paid plans.
Cons of Square
No dedicated merchant account.
No reservation management.
No card pre-authorization.
The free plan doesn't include 24/7 support.
The customer loyalty program is an add-on for all plans.
No tab pre-authorization.
Custom pricing is only available if you process over $250,000 per year.
Square Pricing
Square for Restaurants POS offers two plans:
Free Plan: $0, including unlimited POS devices. Kitchen displays cost $20/device/month
Plus Plan: $60/location/month, including one POS device. Additional devices cost $40/device/month.
Some common add-ons offered by Square include:
Square Payroll: $35/month + $5/employee
Square Loyalty: $45/month
Restaurant Website: Free-$72/month
Email Marketing: $15/month
Square Hardware
Square POS is compatible with most phones and iPads. For payment processing, the $49 Square Card Reader is needed. Countertop POS options include the all-in-one Square Register with a customer-facing display starting at $799. And there's the Square Stand for iPad starting at $149, not including iPad.
Mobile options for tableside orders include the $299 handheld Square Terminal and the free basic reader. The Square Restaurant Mobile Kit costs $249 and comes with a smartphone, case, and built-in slot for the Square card reader.

Square Ease of Use
Square for Restaurants POS is known for its user-friendly interface, making it easy for both new and experienced users to navigate. The system offers robust table management features, customizable layouts, item grouping, and bulk menu additions. This streamlines the ordering process and helps restaurants serve customers more efficiently.
Square Stand-Out Features
Some notable features of the Square for Restaurants POS include:
Strong kitchen management with prep time tracking, customer ticket timers, and more.
Third-party integrations for pickup and delivery, employee time tracking, and customer reservations.
Self-serve QR code order functionality.
Flexible payment options, accepting all major credit cards, Apple Pay, and Google Pay.
Inventory syncing between in-person and online orders.
Online ordering page builder allows customization and integration with Google Business and social media profiles.
Advanced employee and team management are available on paid plans.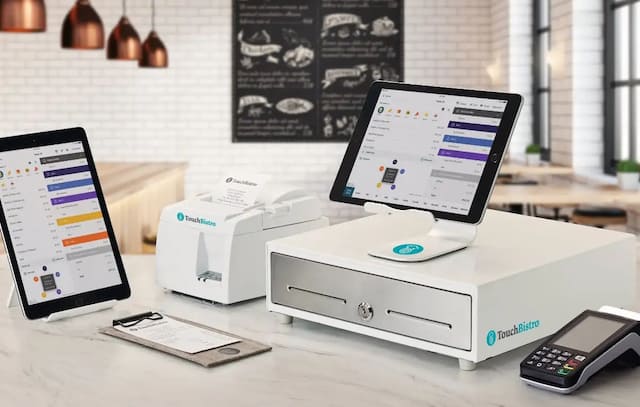 6. TouchBistro POS
The fourth entry on our list of the best restaurant POS systems is TouchBistro POS. This is a hybrid restaurant point-of-sale system. It combines the convenience of a cloud-based solution with the reliability of a locally installed system.
And the system offers a wide range of features tailored to the food service industry's unique needs and fast-paced environment. This makes it a popular choice for restaurants looking for the best of both worlds.
Pros of TouchBistro
Hybrid system: Provides additional capabilities during Wi-Fi outages.
Built specifically for restaurants: Offers a range of apps to suit different restaurant types.
24/7 support: Get help from POS specialists with restaurant industry experience.
Offline mode: Operate seamlessly even without an internet connection.
Third-party integrations: Connects with popular tools like QuickBooks, FreshBooks, Mailchimp, and Google Analytics.
Cons of TouchBistro
No self-serve kiosks: TouchBistro does not offer kiosk options.
Add-ons can get pricey: Extra costs for features like online ordering, loyalty programs, and reservations.
Limited hardware options: TouchBistro does not sell POS hardware, which may be a disadvantage for some businesses.
TouchBistro Pricing
TouchBistro pricing starts at $69 per month. Add-ons like online ordering, reservations, gift cards, loyalty programs, and marketing are available at additional costs. It's important to note that the reservation system may initially seem expensive. But it is competitive when compared to other providers with per-transaction fees.
TouchBistro Hardware
TouchBistro is compatible with iPads from the 5th generation and newer. As such, it's an ideal option for businesses using tablets as their POS system. However, since TouchBistro does not sell POS hardware, restaurants must source additional devices like receipt printers.
TouchBistro Ease of Use
The TouchBistro interface is designed to be user-friendly, enabling restaurant staff to quickly adapt and streamline their operations. The system offers a variety of apps tailored to different types of businesses. This ensures that each establishment can find the perfect fit for its unique needs.
TouchBistro Stand-Out Features
Customizable daily reports: Choose from over 50 reports to track key performance indicators.
Tableside order management: Streamline service and minimize mistakes.
Delivery management: Easily handle and track delivery orders.
Employee and customer management: Keep tabs on your team and build strong relationships with guests.
Tips and reservation management: Efficiently manage reservations and staff tips.
Loyalty programs and inventory management: Enhance customer engagement and control stock levels.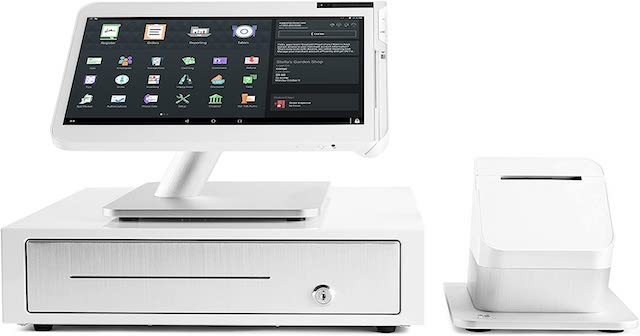 7. Clover POS
Last but certainly not least on our list of the best restaurant POS systems is Clover POS. This system offers a comprehensive, easy-to-use solution ideal for quick-service restaurants.
Its sleek hardware options and extensive features give restaurant owners a robust system to manage their businesses effectively.
Pros of Clover POS
24/7 customer support ensures that any issues are addressed promptly.
Offers payment plans for hardware, making it more affordable for businesses.
Customizable customer loyalty program enhances customer retention.
Online ordering capabilities cater to the growing demand for digital food services.
Accepts various payment options, including mobile payments.
Cons of Clover POS
Existing tablets not purchased through Clover are incompatible with the system.
Hardware can be expensive, especially for small businesses.
Long contracts and early termination fees may deter some restaurant owners.
Not all Clover sellers have a strong reputation, so caution is advised when purchasing hardware.
Clover POS Pricing
Clover offers different pricing plans for restaurants, depending on whether you pay for the hardware upfront or through monthly installments. The pricing ranges from $44.95 to $94.85 per month for those paying upfront.
If you opt for monthly payments, prices range from $90 to $290 per month. Additional features may come at an extra cost, with prices for single apps ranging from $0 to $400 per month.
Clover POS Hardware
Clover provides a variety of hardware options to suit different restaurant needs. These include:
Clover Go ($49): Bluetooth card reader for accepting various payment methods.
Clover Flex ($499): Handheld POS terminal for order taking, payment processing, and receipt printing.
Clover Mini ($799): Compact countertop POS device for space-conscious restaurants.
Clover Station ($1,349 – $1,799): Full-size countertop POS system with optional customer-facing display for a range of functionalities.
Additional hardware accessories, such as kitchen printers, barcode scanners, and cash drawers, are also available at varying prices.
Clover POS Ease of Use
Clover's POS system is designed to be user-friendly, mimicking the functionality of a smartphone. The Clover App Market offers a wide selection of restaurant-specific apps that can be easily integrated into the system.
This allows restaurant owners to create a tailored POS solution without needing assistance from developers or customer representatives.
Clover POS Stand-Out Features
Strong online ordering and delivery capabilities to cater to the growing demand for digital food services.
Table service restaurant planning for streamlined operations.
Swipe, dip, and tap payment processing from all major credit cards.
App options for sharing promotions, rewards, and collecting feedback to improve customer retention.
Powerful third-party integrations, such as Mailchimp and bLoyal, for enhanced customer relationship management.
Fraud protection for payments up to $100,000.
Integrate Your POS System with the CloudWaitress Ordering System
Upgrade your restaurant's efficiency and customer experience with Cloudwaitress, the ultimate online ordering solution designed for Windows-based POS systems. CloudWaitress offers seamless integration with your existing Windows POS system. This reduces setup time and eliminates the need for costly hardware investments.
With its user-friendly interface and advanced features, CloudWaitress enables you to streamline the online ordering process. As such, you're ensured timely and accurate order preparation while enhancing your restaurant's online presence.
CloudWaitress's no-commission policy and custom branding options give you complete control over your online ordering experience. This way, you can keep all your hard-earned revenue and establish a strong brand identity.
Its flexible payment options cater to a wide range of customer preferences, ensuring a smooth and convenient experience.
The CloudWaitress system stands out from competitors like Gloriafood, ChowNow, UberEats, OrderUp, and DoorDash. In fact, it's the ideal choice for restaurants looking to improve their online ordering systems.
And with it, you're guaranteed to deliver exceptional dining experiences to customers. That's why it's our first choice regarding the best restaurant POS systems.

Best restaurant POS systems conclusion
Selecting the right POS system from this list of the best restaurant POS systems is a crucial decision for any restaurant owner. And CloudWaitress stands out as the ideal choice.
This is thanks to its seamless integration with Windows-based POS systems, no-commission policy, and custom branding options. Not to mention its flexible payment methods and innovative features like split printing.
Adopting CloudWaitress as your go-to POS system can streamline your restaurant's operations. This way you can enhance customer satisfaction and drive your business to new heights.
Check out more restaurant business resources:
FAQs
What is the best POS system for a small restaurant?
The best POS system for a small restaurant should be easy to use, affordable, and scalable to accommodate growth. Square for Restaurants is a popular choice for small restaurants. This is due to its user-friendly interface, affordable pricing, and range of features tailored to the needs of small restaurants.
What is the best POS system for restaurants and bars?
The best POS system for restaurants and bars caters to the unique needs of both establishments, such as CloudWaitress. A suitable system should offer features like food and beverage inventory management and table management. It should also include efficient order processing for dine-in and takeout, employee management, and seamless payment processing. The point-of-sale system should also support integrations with online ordering platforms. And it should include robust reporting capabilities to help optimize business operations.
How to upgrade to the best POS system for a restaurant
Upgrading to the best POS system for your restaurant involves researching and comparing various options based on your specific needs. Once you've selected a suitable POS system, follow these steps:
Contact the POS provider and discuss your requirements to ensure compatibility.
Create a transition plan, including staff training and data migration from your existing system.
Set up the new POS hardware and software, with assistance from the provider if needed.
Train your staff on the new system and run tests to ensure everything functions smoothly.
Switch to the new system and stay in touch with the POS provider for ongoing support and updates.
The CloudWaitress team is available to guide you through the process and ensure you have the best restaurant POS system for your needs.