Many businesses in the food sector are looking for free online ordering systems for restaurants. This is because many people prefer to order meals or make online purchases at their fingertips without spending time commuting. According to a 2023 report, about 58% of Canadians order food online.
When seeking free online ordering systems for restaurants, look no further than Cloudwaitress. We have starter and enterprise plans but provide excellent features in our free plans as well. Some of these features are menu display, order placement, payment function, etc. Also, you can get domain names and web hosting for free.
This piece will take you through the top free online ordering systems for restaurants. You'll also learn about their benefits, among other things. To begin, what are online ordering systems?
What Are Online Ordering Systems?
They are digital platforms that help customers place food orders through the internet. This can be done through a mobile app or website. Today, these systems have become popular, thanks to the demand for food delivery and takeout services.
Here's how it works for a customer. When they use your ordering app, they can see the menu. This displays pictures and prices. In the same way you purchase clothing online, they will pick their desired dishes from your menu and put them in a virtual cart.
Afterward, they will choose a payment option and complete their transaction. They can do this with their card or a digital wallet, depending on the available options on the system. Next, they decide if they want the food delivered to their doorstep or if they'll pick it up.

These systems also let them track their order and may offer discounts. Here are key features and functionalities of an online ordering system for a restaurant:
Menu Display: This feature displays a restaurant's menu with descriptions, prices, and images of dishes.
Order Placement: This feature allows customers to select the items they want to order. Also, they can customize them and add them to a cart.
Payment Processing: Most systems like Cloudwaitress offer various payment options. This includes credit/debit cards, digital wallets, and sometimes cash on delivery.
Ratings and Reviews: Customers can rate restaurants and leave reviews generally or for specific dishes they've ordered.
Order Confirmation: A customer who has just placed an order will receive an email or text message confirming their purchase.
Analytics and Reporting: Restaurants can access data and analytics to understand customer preferences, order trends, and sales performance.
Top Free Online Ordering Systems for Restaurants
1. Cloudwaitress
Cloudwaitress offers an unmatched free online ordering system for restaurants. Our headquarters is in Australia, but you can access our service worldwide. We have free plans and starter and enterprise plans that charge a fee to restaurants for using the online ordering system. The features you'll enjoy from us include:
Online payment integrations, including PayPal, Stripe, PayGate, etc.
Social media integrations, including Facebook Pixels and Google accounts.
Task automation with REST API in JSON format is available.
Access Google Maps, Google Analytics, Tookan delivery management, Open street maps, and more.
In-built POS.
QR code ordering is available.
2. Square Online
Square offers a free online ordering system for restaurants, allowing you to create a basic website with online ordering capabilities. Some of their features include:
Unlimited bandwidth and free web hosting.
Native label creation and shipping tools.
Time-based and QR code online ordering.
Free POS.
Multiple payment options.
Social media integrations include Facebook, Instagram, and TikTok.
Cons of Square Online
Expensive payment processing fees mean the system becomes extremely expensive over the course of a year.
Limited functionality I.e. Limited Dish options, No combos, No variable menus
Design options very limited
3. GloriaFood
GloriaFood provides a free online ordering system that you can integrate with your social media account and website. They generate revenue through optional premium features. It is a good option if you're just testing the online ordering waters. Some of the features you'll enjoy with GloriaFood include:
Unlimited orders.
Available easy-to-spot widgets for restaurants.
Accept orders from a mobile device or PC.
Unlimited location.
Free set up.
No commissions are required.
GloriaFood Cons
Limited design options
Dated design
Additional charges for important features
4. ChowNow
While ChowNow is primarily a paid service, they offer free setup and basic online ordering features to some restaurants in specific areas. Some of these features are:
Customized Ordering System
Commission-Free Orders
Mobile Apps and Website Integration
Menu Management
Customer Data and Insights
Marketing Tools and Order Tracking
Payment Processing
Customer Support
Cons of ChowNow
Limited design options
Highest monthly fees
Hidden pricing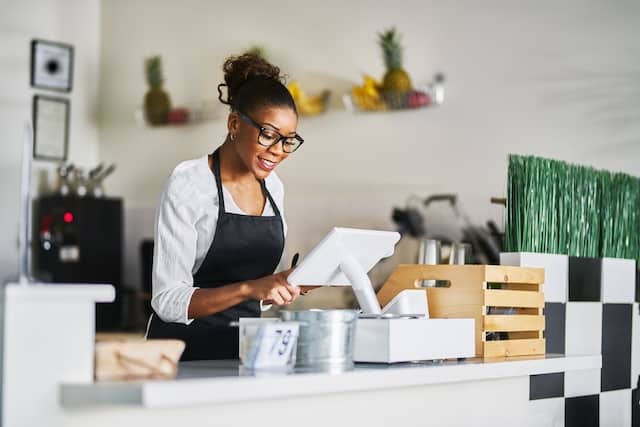 5. Restolabs
Restolabs also offers a free online ordering system. However, you'll enjoy more integrations and features on their premium plan. With Restolabs, you can display your restaurant's menu with descriptions and images, making it easy for customers to choose their dishes.
Your customers can place orders, customize items, and add them to a cart. This helps to streamline the ordering process. Payment processing is hassle-free, with various options, including credit/debit cards and digital wallets. They also give you reporting and metrics tools.
Benefits of Using Online Ordering Systems for Restaurants
If you own a restaurant, online ordering systems can help you streamline operations, reach a broader customer base, and enhance the customer experience. Some of the benefits these systems offer are as follows:
Increased Return on Investment: They help expand your customer base, making it easier for your customers to place orders. This can improve sales and ROI.
Convenience: Your customers can place orders on the go or while sipping coffee at home.
Reduced Errors: Online orders are less prone to errors compared to phone orders, as customers can review their selections before submitting.
Efficient Order Processing: Orders go directly to the kitchen, reducing the risk of miscommunication between staff members. It also ensures faster order processing.
Improved Customer Experience: These ordering systems help to enhance the customer experience. They provide detailed menus, customization options, and easy payment methods.
Order Tracking: Order tracking is available on many systems, so customers can keep an eye on their packages at all times.
Data Insights: Online systems gather helpful information about what customers like and how often they order it. This can be used for marketing and menu optimization.
Cost Savings: Restaurants can potentially reduce labour costs as they may need less staff to handle phone orders.
POS Integration: You can make it easier to manage orders and keep track of your inventory with this feature.
Marketing Opportunities: Restaurants can promote loyalty programs, special offers, and discounts through their online ordering platform.
Contactless Dining: During the COVID-19 pandemic, online ordering provided a contactless way for customers to access restaurant services.
Increased Efficiency: Online orders are often more efficient for restaurant staff, as they can focus on preparing food rather than taking phone orders.

Free Online Ordering Systems for Restaurants Conclusion
If you run a restaurant, you can let people order food online without spending much. There are plenty of free options available. These free online ordering systems for restaurants help you show your menu, take orders, and get paid online. It's like having a waiter on the internet.
Cloudwaitress leads the pack with our user-friendly restaurant setup process and extensive global reach. Take advantage of Cloudwaitress' wealth of value-added features to ensure your restaurant's online ordering system is seamless for both your team and your customers.
You might also like…
FAQs
How Does the Online Ordering Systems Work?
Your customers begin by reviewing the available options, picking some out, and placing them in their shopping cart. When done, they will review their order, make needed changes, and proceed to checkout. There, they can specify where and when they would like their order picked up, select a payment option, and complete the purchase. You'll receive a notification of the order, and your customer will receive a confirmation with delivery information.
What Payment Methods Are Accepted?
Our online restaurant ordering system accepts various payment methods, including credit cards, debit cards, PayPal, and digital wallets like Apple Pay or Google Pay. During checkout, your customers will be able to select the payment method that works best for them.
What Is the Delivery or Pickup Process?
Your customers will receive a delivery time estimate when the order is placed. For pickup, you can send them specific instructions on where and how to collect their order. Delivery fees, if any, will also be communicated during the checkout process.